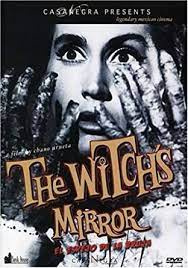 Sara (Isabela Corona) is the housekeeper for Dr. Eduardo Ramos (Armando Calvo) and his wife Elena (Dina de Marco). Elena is Sara's godchild and she is devoted to the young wife. Sara is also a witch. In Elena's room is a mirror called a witch's mirror. Using it Sara can conjure up the future. Sara is concerned for her godchild when she sees in the mirror that Eduardo is going to kill Elena because he is in love with another woman. The spirits tell Sara that she is not allowed to interfere in Elena's destiny. Eduardo poisons Elena and there is nothing Sara can do to prevent it, but by using black magic Sara vows to have Elena take revenge on Eduardo and the woman.
Eduardo marries Deborah (Rosita Arenas) and brings her to his home. Sara pretends to be happy for Eduardo and bides her time. Slowly strange things begin to happen and Deborah begins to feel that the spirit of Elena is haunting her. Finally Eduardo starts to get a little spooked as well. Deborah hears Elena scream and rushes into her room. She sees Elena in the witch's mirror and faints. Eduardo follows. When he sees Elena's spirit in the mirror he throws an oil lamp at it. The mirror breaks and the lamp falls to the floor. Flames from lamp burn Deborah's face and hands.
Deborah is now horribly disfigured. Eduardo is a plastic surgeon. He vows to restore Deborah's beauty. To do so he and his assistant, Gustavo (Carlos Nieto) rob the graves of beautiful women to get the material Eduardo needs to do skin grafts for Deborah's face. One woman, who was a concert pianist, is buried. Eduardo wants to use her hands for Deborah. When he digs her up he finds the young woman wasn't really dead, only in a catatonic state. The fact that she is alive does not stop him from his mad mission.
Using her black magic Sara reconstructs the witch's mirror, calls Elena's spirit from the grave, and helps her take her final revenge on Eduardo and Deborah.
"The Witch's Mirror" was released in 1962 and was directed by Chano Urueta. It is a Mexican horror movie and one of several horror films produced by Abel Salazar.
The film has long been looked at as borrowing elements from "Les yeux sans visage" or "Eyes Without A Face", "The Hands of Orlac", "Frankenstein", "Rebecca", "Haxan", just about anything Edgar Allan Poe and perhaps a touch of "Faust" as well. Of course, Mexican horror usually adds its own spin and there is no exception here. Included in this stew of themes are witchcraft, supernatural forces and a mad scientist. The result is a gothic tale full of sinister atmosphere, and some great cinematography, all blended together to make a really decent horror flick.
This is one of the movies that K. Gordon Murray purchased the rights to and dubbed into English. Granted, the original Spanish version is far more authentic but without Murray "The Witch's Mirror" might never have been introduced to English speaking horror fans or late night TV.