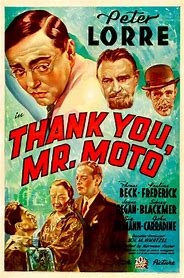 Mr. Moto (Peter Lorre) crosses the Gobi Desert. In his possession is a priceless ancient scroll. A man from the caravan tries to sneak into Moto's tent looking to steal it. Moto kills him and buries his body in the sand beneath his tent. At Peiping the police find the scroll but Moto escapes with it. The scroll is one of seven. When the seven scrolls are placed next to each other they form a map that shows the position of the tomb of Genghis Kahn. It is said that the tomb holds a treasure of unimaginable worth.
Moto is invited to a party hosted by Colonel Tchernov (Sig Rumann). The guests include Prince Chung (Philip Ahn) and his mother (Pauline Frederick). At one time the Chung family was wealthy. Prince Chung's family is in possession of five of the scrolls. Colonel Tchernov wants to buy the other scrolls but the Chung family will not sell them. Tchernov threatens to kill Chung but is saved by Mr. Moto. Tchernov is stabbed. Moto stages the scene to look like suicide.
As a thank you for saving his life Chung shows Moto the five scrolls he has. He tells Moto that his family possessed six scrolls. For centuries there was a rumor that there was a seventh scroll. He also tells Moto that one of his family's scrolls was on exhibit at a museum and was stolen. Moto visits the shop of an antiques dealer Piereira (John Carradine). Moto gets Piereira to confess that he stole the scroll from the museum. Before Moto can obtain any more information Piereira is shot through his shop window and killed.
Moto is not the only one who wants to acquire all of the scrolls. Herr Koerger (Sidney Blackmer) and his cohorts Schneider (Wilhelm von Brincken) and the widow Madame Tchernov (Nedda Harrigan) also have plans to possess all seven of the scrolls and will stop at nothing to get them.
"Thank You Mr. Moto" was released in 1937 and was directed by Norman Foster. It is a crime mystery and is the second of eight Mr. Moto films starring Peter Lorre. It is based on the novel of the same name written by John P. Marquand. The novel was published in 1937. The film was actually the third film produced but it was the second to be released.
Mr. Moto is an import merchant whose hobby is fighting crime. At times he is a detective and at others a secret agent for Interpol. The Mr. Moto novels were originally created as serialized stories for the Saturday Evening Post. After Charlie Chan creator Earl Derr Biggers died the Post was looking for an Asian hero. Whereas Charlie Chan was Chinese, Mr. Moto is Japanese. The eight Mr. Moto films were produced by 20th Century Fox between 1937 and 1939. In the films his name is Kentaro Moto. He knows Judo and Jiu-Jitsu and can speak four languages.
Victor Sen Yung, who played Tommy Chan, number two son, in the Charlie Chan films, is an extra as a pedestrian in a street scene. Mr. Moto's black cat is named Chunkina.