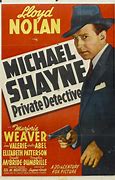 Michael Shayne (Lloyd Nolan) is a fast talking, hardboiled detective with his tongue in his cheek. He is hired by Hiram Brighton (Clarence Kolb) to reign in his strong-willed daughter Phyllis (Marjorie Weaver) who is overly fond of gambling. Phyllis is hanging out at a gambling establishment owned by Mr. Gordon (Douglass Dumbrille) and is being encouraged by one of Gordon's underlings, Harry Grange (George Meeker). To teach Phyllis a lesson, Michael slips Harry a mickey and places him in Phyllis' car. Some ketchup makes Harry look like he's dead.
Phyllis is at first scared and then annoyed at Michael for such a dirty trick. At least until she realizes that Harry is dead, for real. Near Harry is Michael's gun, which was stolen from him earlier by a shady lawyer, Larry Kincaid (Robert Emmett Keane). Michael sends Phyllis home and is about to leave himself when his car doesn't start. Just then the cops roll up.
Shayne does some fast talking to get out of the situation but is still Police Chief Painter's (Donald MacBride) number one suspect. Shayne ends up trying to find the actual killer. With the help of Phyllis and her mystery-story addicted Aunt Olivia (Elizabeth Patterson) Shayne uncovers a swamp of not only murder but blackmail, jealousy, and race fixing.
"Michael Shayne: Private Detective" was released in 1940 and was directed by Eugene Forde. It is a murder mystery with comedic overtones. It is the first of seven films produced by 20th Century Fox that featured Lloyd Nolan as detective Michael Shayne. The film is based on Brett Halliday's novel "The Private Practice of Michael Shayne. Like many detective series in the thirties and forties Michael Shayne started out as a radio program.
It is a fast-paced story with a confusing plot, but the plot is only an afterthought to the smart aleck rapport between Nolan and Weaver. At first Weaver's character is an annoying spoiled rich girl but once the movie gets going the chemistry between them sparkles.
Elizabeth Patterson, as Aunt Olivia, is a joy to watch. Slightly airheaded but very intuitive she fancies herself just as much of a detective as Shayne and she does come up with a few ideas that he didn't think of. When she's on screen the movie belongs to her. Her butler Ponsby (Charles Coleman) is her yin to his yang. The two of them are highbrow gumshoes whose cultured speech is peppered with coarse detective movie tropes. Apparently, anyone can be a private dick, if you read enough murder mysteries.
The suspects are plentiful and how Shayne manages to figure out who did what and why is, quite often, a leap in logic but his miraculous deductions propel the film at breakneck speed. Shayne manages to do it all with a clumsy elegance that makes him fun to watch.