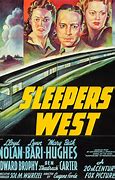 Michael Shayne (Lloyd Nolan) is escorting a disguised Helen Carlson (Mary Beth Hughes) from Denver to San Francisco. Helen has had a hard life and is a bit of a handful. Shayne is busy keeping her under wraps and away from the public. Helen is a witness for a major court case in the trial of a man named Joe Callahan. Callahan is on trial for a murder he didn't commit. If Callahan is exonerated then the son of an influential man would be exposed. The kid's father, Wentworth, would be implicated in the frame-up in order to keep his son from being looked at as the real killer.
Also on the train is Shayne's former girlfriend and reporter Kay Bentley (Lynn Bari). Kay is engaged to Tom Linscott (Donald Douglas). Linscott is an attorney that works for Wentworth Enterprises. Wentworth is also running for Governor so a scandal would ruin his chances.
At Avondale the train picks up Everett Jason (Louis Jean Heydt), a dry goods salesman escaping a boring life and Carl Izzard (Don Costello). Izzard works for Wentworth and is looking for Shayne and Helen. He is willing to do whatever it takes to stop Helen from testifying. Izzard tells Linscott that Helen is aboard and enlists his help to find her. Linscott, knowing that Shayne and Kay have a past, informs her that Helen is on board. Linscott knows that Kay will do just about anything to ferret out a scoop for her paper.
While Shayne and Kay are playing cat and mouse mild mannered Everett Jason accidentally meets Helen. Helen, who is desperate for not only a drink but company, invites Everett into her compartment. Several drinks later, and some soul-searching conversation inspires Everett to invite Helen to run away with him to South America.
When the train crashes Shayne needs to secure alternate transportation. Kay tries to abscond with Shayne's witness so she can scoop everyone on the story. Helen and Everett aren't sure who to trust and end up going along for the ride until they figure it out.
"Sleepers West" was released in 1941 and was directed by Eugene Forde. It is a crime movie with comedic undertones and is the second of twelve Michael Shayne films starring Lloyd Nolan. The twelve Lloyd Nolan films were produced by Twentieth Century Fox. The film is based on the novel "Sleepers East" by Frederick Nebel and the character created by Brett Halliday.
Unfortunately, the racist aspects of the film put a damper on some of the fun. There are, however, a fair number of black actors in the film even though they all play porters and waiters. They include Mantan Moreland, Fred "Snowflake" Toones, Charles R. Moore, Sam McDaniel, Jesse Graves and Ben Carter.
What makes the Michael Shayne movies fun is how Nolan plays the character. Hardboiled but with a sense of humor and a bit of a heart. He is able to shrug it off when he is one upped. Most of the film takes place on the train, or sets that look like a train, so if you're a train fan this movie will be right up your alley. There is also a subplot with a cantankerous engineer determined to get to San Francisco on time despite being delayed. This being his last run before retirement he wants to go out with perfect timing. Instead, he goes out with a bang.