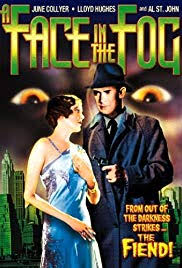 "What's the difference as long as you're health?"
A mysterious killer known as the Fiend is killing cast members of a show at the Alden theatre. The only thing anyone knows about him is that he is a hunchback and that he uses frozen poison bullets to kill. Newspaper reporter Jean Monroe (June Collyer) puts an article in the paper stating she has seen the Fiend's face. The Fiend pays her a visit and tries to kill her.
Later she receives a note from Ted Wallington, one of the stars of the show, asking her to come see him. Fellow reported Frank Gordon (Lloyd Hughes), and photographer Elmer (Al St. John) accompany her to the theatre. At the theatre she finds out that the note was a fake. Then the lights go out and Wallington is killed. Peter Fortune (Lawrence Gray) is the author of the show. His expertise in writing murder mysteries has made him an asset to the police in solving murder cases in the past. He agrees to assist on this case.
Since Jean doesn't want to go back to her house just yet, she and Frank have taken rooms at the Globe Hotel where the other actors are staying. One of the other actors, in the show, is Reardon (Jack Mulhall). He stops by Frank's room. It appears a telephone message for Frank may have been a ruse to try to get him out of the hotel. Reardon offers to call the police, however, he is actually pretending to be on the phone and is holding the receiver hook down with his finger. Meanwhile, Elmer calls Frank. While Reardon is pretending to talk to the police the phone rings. Frank accuses Reardon of being the Fiend. A fight ensues but Reardon manages to escape Frank's grasp.
Frank chases Reardon. During Frank's absence the fiend slips into the room and pretending to be Frank, tries again to kill Jean. His plans are thwarted when Jean refuses to open the connecting door and Frank returns. When Reardon is murder Jean, Frank and the police are back to the drawing board for suspects.
"A Face In The Fog" was released in 1936 and was directed by Robert F. Hill. When I am being chased by a hunchbacked murderous fiend, I do not stop to put my coat on and look in the mirror to make sure I put my hat on jauntily. It was cute but, Just sayin'. I did have issues with Al St. John, the comic relief. He was more annoying that he was funny.
Unfortunately the film is not in very good shape. It is suppose to be 66 minutes long, but I couldn't find any that were more than 55 or 56 minutes in length. It appears many cuts were made and it shows. Possibly due to damage in the film. The movie is rather choppy and difficult to follow in places. It's also scratchy and rather shaky in places too.
As for the movie itself, it was OK. It's not that difficult to figure out who the fiend is despite the big red herring. There is some over acting. That happens with some of the old movies from the 30's. At the time it was made talkies were still kind of new so actors were still use to over emoting to get their characters out. Not a big deal. It's not a bad movie but with all the other problems, unless you have to have every mystery from the 30's you may want to pass it by. If you are interested in it, I'd suggest catching it free on You Tube first and see if it is something you want in your collection.