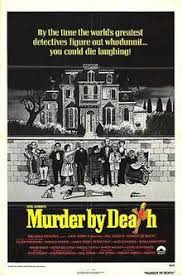 "On the stroke of midnight, someone in this house is going to be viciously murdered."
The wealthy and reclusive Lionel Twain (Truman Capote) is having a few visitors for the weekend. The guests are five of the most notorious detectives in the land. Mr. Sidney Wang (Peter Sellers) and his adopted son Willie Wang (Richard Narita), Sam Diamond (Peter Falk) and his moll Tess Skeffington (Eileen Brennan), Milo Perrier (James Coco) and his chuffer Marcel (James Cromwell), Dick Charleston (David Niven) and his wife Dora Charleston (Maggie Smith) and Jessica Marbles (Elsa Lanchester) and her nurse (Estelle Winwood).
Each guest is welcomed by Twain's blind butler Jamessir Bensonmum (Alec Guiness). The other servant in attendance is Twain's deaf-mute cook Yetta (Nancy Walker). Twain joins his guests at dinner. The purpose of the weekend event is a challenge to the guests. They must solve a murder that will take place at midnight. A reward of one million dollars is at stake for the winner. Twaine then disappears.
When the butler is found dead before midnight, the farce begins in earnest. Clues and theories are tossed around. Then Twaine is found murdered. Red herrings are everywhere. More clues are put forward. Accusations are tossed into the mix. Everyone had a reason to kill Twaine. Everyone had a motive. A dark secret.
Eventually they decide they had better all go to bed, but there is a lethal surprise waiting for each of the detectives in their rooms.
"Murder by Death" was released in 1976. It was directed by Robert Moore and written by Neil Simon. All the characters are a take-off on famous literary detectives and are played by some of the best actors of the time. Some of the humor is subtle but some is quite campy. You tell yourself it's not funny. At least until a giggle comes out of you. It's an Old Dark House mystery with more humor than mystery.
The detective characters represented are based on three authors. Dick Charleston and Sam Diamond represent Nick Charles and Sam Spade by Dashiell Hammett. Milo Perrier and Miss Marbles represent Hercule Poirot and Miss Marple by Agatha Christie, and Charlie Chan by Earl Derr Biggers is represented by Sidney Wang.
The Television release included a scene where the Wangs pass another car coming in the opposite direction. In the car are Sherlock Holmes (Keith McConnell) and Dr. Watson (Richard Peel). This scene was not released in the theatrical version.
The screaming woman sound used as a doorbell is Fay Wray's screams from "King Kong" (1933).
Besides "Murder By Death" Truman Capote's only other film roles were narrating TV movies of his short stories "The Thanksgiving Visitor" and "A Christmas Memory" and in "Annie Hall" as the winner of a Truman Capote look-alike contest. A role in which he was never credited.
If you saw it in the past when you were young and you didn't get it, watch it again.