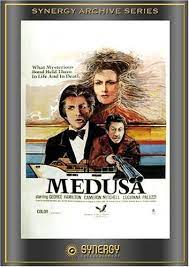 Jeffrey (George Hamilton) is a psychotic playboy who owes a lot of money to a psychotic hood named Angelo (Cameron Mitchell). Angelo, in turn, owes money to the Greek syndicate. Angelo needs to pay the syndicate or things will go bad for him. He in turn needs Jeffrey to pay him back. Jeffrey had been counting on getting the money from his deceased father's will; however, he and his sister Sarah (Luciana Paluzzi) have been disinherited based on the latest will. Other than the attorneys, no one knows about the new will except Angelo and Jeffrey. They need to get back the new will so that the old will can still be valid.
The new will was being transported, first by plane and then by car, by the solicitors, Edwards and Wells. Both of them ended up dead and the will is missing. Angelo and Jeffrey believe that the will was given to one of the flight attendants on the plane. The flight attendants also start dropping like flies.
Sarah has just gotten engaged to Nikos (Thodoros Roubanis). Nikos is not happy with the relationship Sarah has with her juvenilistic brother. The police Inspector (Takis Kavouras) suspects everybody.
"Medusa" was released in 1973 and was directed by Gordon Hessler. It is an American mystery film with a psychotic twist. It was produced by and stars George Hamilton. It was the second film Hamilton produced. The first was "Evel Knievel" 1971. The film was co-written by Christopher Wicking.
Wicking is known for writing horror and fantasy films for AIP and Hammer Film Productions. Wicking said the script was written because Hamilton was willing to do it. At the time Hamilton was engaged to Alana Stewart and thought a honeymoon in Greece would be nice, especially with all expenses paid and a salary to boot. At one point in his career Hamilton was noted as saying: 'I'll be remembered as a third-rate actor when in fact, I'm a first-rate con man'."
As for the movie it started out on the boring side but as it went along it got a lot more interesting. Cameron Mitchell as the psychotic Angelo was wonderful. Once he showed up he kept me entertained until the story itself began to get appealing. George Hamilton as the spoiled Jeffrey was more annoying than anything else in the beginning. His character also got better as it went along. By the third quarter mark it was a little hard to tell the crazy people from the not quite as crazy people.
The movie itself was a little dark at times and it was difficult to see the action in some parts especially when someone got killed. The will itself is basically a McGuffin. The relationship between brother and sister has an incestuous theme to it but their characters don't develop much more than that. Trying to keep the mystery of who the murderer or murderers are made it a little difficult to follow at times but you end up watching because the filmmakers do a good enough job at keeping the mystery enough for you to actually want to make sense of it.
It's not one of Wicking's better endeavors but I'm not sure how much of that is the script, how much is Hessler's directing or how much is the acting. I'm also not sure what the title "Medusa" is supposed to symbolize. I can't say that I loved the movie, or even really liked it but it ended up holding my interest enough to want to see the end. After its boring beginning I did end up liking it more than I expected to.