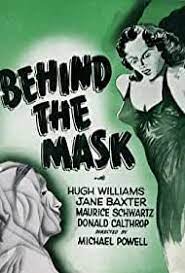 Nick Barclay (Hugh Williams) and June Slade (Jane Baxter) are in love and want to get married.  June's father, Lord Slade (Peter Gawthorne) does not approve of Nick, so the couple decides to elope.  The Lord is going to host a masked ball, and everybody will be there.  Part of the reason for the celebration is to show off his new ancient artifact, the shield of Kahn.  The police are in abundance to guard the shield.  On hand to organize everything is Chief Inspector Mallory (George Merritt). 
Nick plans on attending the gala but dressed so that no one knows it is him.  At midnight, when everyone unmasks, Nick and June plan on sneaking out of the festivities and make their getaway.  Some of Slade's family and staff are in on the plan and are willing to help.
Before Nick can execute his plan, he is knocked unconscious.  Someone dressed in his costume attends the gala pretending to be Nick.  At the appointed time the masked man steals the shield, abducts June and escapes in Nick's car, running over a cop in the process. 
Everyone, including the police believes Nick is the culprit.  Nick is now challenged with finding not only June but the shield as well.  His search ends up unearthing an insane villain known as The Master (Maurice Schwarz), a double cross and a man back from the dead, all while eluding the police.  
"Behind the Mask" AKA "The Man Behind the Mask" was released in 1936 and was directed by Michael Powell.  It is a British mystery film and a low budget quota quickie.  The film is based on the novel by Jacques Futrelle. 
The original film was 79 minutes long.  The American version was cut down by at least 20 minutes.  It is one of three films directed by Powell that are on the British Film Institute's "75 most wanted".  This is a list of lost British films.  Currently, the shortened American version of the film is the only version known to have survived.
It is a fast-paced film with lots of characters and a rather complicated plot.  The parts where The Master is in his observatory have a different feel to them making the film seem almost like a mash-up between a thriller and a science fiction movie.
Most of the problem with the film is that a big chunk of it is missing.  That has the unfortunate effect of making the film a little choppy and scattered.  For the most part, it's still an interesting film but I believe it would be much better if an intact copy could be found.