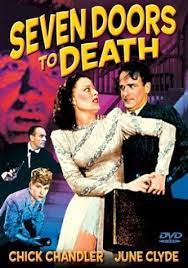 A shot rings out; a woman screams and runs out of the Hamilton Apartments.  Jimmy McMillan (Chick Chandler) is trying to get his car to start.  He finally succeeds when the woman jumps onto his running board.  Pretending to have a gun she orders him to drive.  His car ends up crashing and she takes off. 
Jimmy returns to where the woman carjacked him.  He looks through an opened window of the apartment and sees a dead body on the floor.  He notifies police Captain William Jaffe (Michael Raffetto) and describes the body he found.  When they arrive, they find a dead body, but it's not the same person that Jimmy described.  The dead man is Horace Dorn.  He is the lawyer for Mary Rawling (June Clyde).
When the police find Mary, she is filing the deed to the Hamilton Court.  Hamilton Court is comprised of the apartment building and the shops that surround it.  Hamilton Court had belonged to her aunt Matilda and Mary is the only next of kin.  Jimmy recognizes her as the woman who kidnapped him.  Jaffe has no proof that Mary had anything to do with Dorn's death or the missing body, so Jaffe has to let her go. 
Mary and Jimmy call a truce and decide to work together to investigate what is going on.  Together they delve into the lives of the various shopkeepers and the secrets they keep.  What they find are some stolen jewels, the missing body and more murders.
"Seven Doors to Death" was released in 1944 and was directed by Elmer Clifton.  It is an American poverty row mystery by Producers Releasing Corporation.
The seven doors are represented by the various shops in Hamilton Court and the door to the cellar that is underneath them.  The shops are, the furrier owned by Charles Eaton (George Meeker), the silversmith owned by Claude Burns (Edgar Dearing), the perfume shop owned by Mable De Rose (Rebel Randall), the hat shop run by Mary Rawling (June Clyde), the antique store owned by Donald Adams (Milton Wallace), and a photography shop owned by Henry Gregor (Gregory Gaye).
I had a little trouble following the plot and had to watch it a couple times before I understood all the pieces.  It didn't help that the film stock is old and dark making it difficult to see what is going on at times.  The sound is also on the muffled side.  There are suspects a plenty and the story is not bad, but the only real action happens at the very beginning.  There are also some leaps in logic and a red herring or two.  It's not the best mystery but the sets are unusual.  They have a low budget "Rear Window" 1954 look to them.