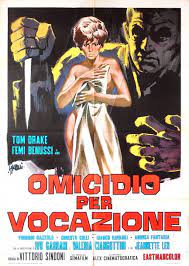 When Oscar (Arnaldo De Angelis) gets hit by a train everyone thinks it's an accident. Oscar leaves behind three adult children, Simone (Femi Benussi), Rosalie (Giovanna Lenzi) and Colette (Valeria Ciangottini). Rosalie is married to Leon (Ivo Garrani), a crude and heartless man. Also in the family is Janot (Ernesto Colli), a simpleton that had been in and out of institutions. Oscar took him in and made him his son.
Everyone thinks, especially his family, that Oscar was in debt up to his ears and that they will be stuck with his bills. When the family attorney shows up to read the will they are shocked. Oscar had over a million new francs. According to the will they will all share in the estate but there is one caveat. The heirs must wait until Janot turns twenty-one before the estate can be split. In three years. Since everyone needs money now, nobody is happy, especially with Janot.
It's not long before Janot turns up also hit by a train and spread in pieces along the track. Since Janot's death is suspicious Inspector Gerard Greville (Tom Drake) shows up to investigate. It seems that everyone in this little town needs money and is sleeping with someone that may inherit or is sleeping with someone who is sleeping with someone that may inherit. Greed rules. One by one the heirs meet with less than unsuspicious ends. The prime suspect in the murders is of course the nasty and short tempered Leon. But don't worry; there are enough strange events to engage everyone enough to want to see the very end.
"Deadly Inheritance" AKA "Omicidio per vocazione" or "Murder by Vocation" AKA "L'assassino ha le mani pulite" or "The Killer Has Clean Hands" was released in 1968 and was directed by Vittorio Sindoni. It is a mystery thriller and an early Italian giallo. It is also one of the lesser known gialli. The film is also what's known as a "rural" giallo and is set in the French countryside.
To me it doesn't scream giallo but that doesn't matter since it's a fun and almost tongue in cheek murder mystery. I've seen a lot of heirs killing heirs films that were supposed to be black comedies but they left me feeling like the comedy part was missing. This is a sober mystery but there are hints of black humor here and there that play better than the so called comedies.
There may not be a lot of stars in the film but it is a nice little who-done-it with lots of done its and a few twists and turns along the way. The movie started out as a regular murder mystery but somewhere along the way it morphed into a wonderfully crafted film with some really great scenes and an interesting double twist at the end. If you're bored or think it is pedestrian, give it a little time. I highly recommend it.
The only American star in the film is Tom Drake. Drake made the rounds with just about every television series in the 60's and 70's.