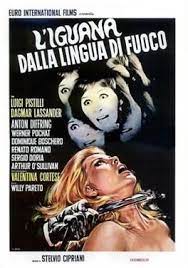 A woman has acid thrown in her face and is slashed with a razor. The next day her body is found in the trunk of a car belonging to Ambassador Sobiesky (Anton Diffring). Sobiesky is the Swiss Ambassador to Ireland. Some of the witnesses to the spectacle are the Ambassador's wife (Valentina Cortese), his step-daughter Helen (Dagmar Lassander) and the chauffer Mandel (Renato Romano).
The doctor (Naill Toibin) says that facial identification is impossible. The passport of the dead woman is sent to police Inspector Lawrence (Arthur O'Sullivan). Since investigating someone with diplomatic immunity is almost impossible Lawrence calls in former police detective John Norton (Luigi Pistilli) to handle the investigation.
The investigation reveals that the dead woman was one of the Ambassador's lovers. It's not long before another one of the Ambassador's lovers (Dominique Boschero) is sliced to death. She is a singer in a pub. In the bar where she worked were Helen, her date, Walter (Sergio Doria), and John. When Helen slips out before the police get there John arranges to meet her and take her home. John ends up involved with Helen.
After that the murders come fast and furious. Everyone is a suspect until they get killed. The killer's favorite tools are acid and a straight razor. As John gets deeper and deeper into the case his family also ends up in the crosshairs of the murderer.
"The Iguana with the Tongue of Fire" was released in 1971 and was directed by Riccardo Freda. It is a horror mystery thriller and a giallo. As far as I know it was the only giallo that was filmed in Ireland.
The movie is basically good but there are a few things that make it confusing. The array of suspects is large and everyone either has a motive to kill or just look like they have a motive to kill. Some suspects are brought in and then discarded just to use them as red herrings. And there are a lot of red herrings. A few of them didn't even have names. Even when you get to the killer the reasoning for the killer to kill is a little flimsy.
There is also a lot of blood and some close-ups of acid drenched faces and sliced up jugulars. There are at least seven actual murders and five attempted murders and even an animal kill so there is lots of red. There's even a flashback of a killing. Sex and nudity is also sprinkled in. There are a lot of the standard giallo tropes present.
The film was reportedly rushed into production to capitalize on the success of Dario Argento's "The Bird with the Crystal Plumage" 1970. Unfortunately it didn't work. The movie ended up being a dud at the box office. Even director Riccardo Freda was unhappy with the film and had his name replaced with the pseudonym Willy Pareto. Of course 1971 was a good year for gialli so it had a lot of competition. It also doesn't help that the film is considered homophobic, racist and misogynistic. I consider gialli in general to be misogynistic. After all how many ways can you slice up a woman.
In general the movie is bloody sexist exploitative cheezy euro-trash. It's a little gross but lots of gialli are. I enjoyed most of the film but I had some problems with bad things happening to my favorite characters. Oh, and there's no iguana.