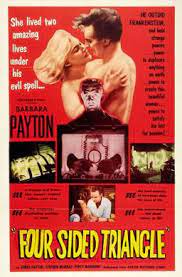 Bill (Stephen Murray), Robin (John Van Eyssen) and Lena (Barbara Payton) were childhood friends that did just about everything together. When Bill's parents died Dr. Harvey (James Hayter), the local physician took on Bill as his ward. Bill and Robin were both brilliant students. Eventually Lena's mother went back to America and took Lena with her. The two boys, still friends, went off to Cambridge together to continue their studies.
Eventually the boys returned to the village they grew up in to work on a project together. They had both become scientists and had an idea for an invention that took up quite a bit of time and money. With backing from Robin's father and Dr. Harvey the two young men bought an old barn and began working on what they called a Reproducer.
In the middle of their project Lena returns to the village. Her mother having died she plans on selling anything her mother had and after that had nothing in mind. Dr. Harvey convinces her to become mother and nursemaid to the guys knowing that they need someone to do the regular day to day stuff for them like make their meals and make sure they sleep. Lena becomes indispensable and both Robin and Bill realize that they have been in love with Lena since childhood. Lena falls in love with Robin.
Finally they complete the Reproducer. The invention can reproduce any object placed inside it. Now that the invention is done Robin and Lena decide to get married. Bill is heartbroken since he is still in love with Lena. Robin and Lena go off together while Bill begins working on different experiments. Bill is convinced that he can modify the duplicator to create exact copies of living things. With Dr. Harvey's help Bill succeeds in duplicating a rabbit.
Bill convinces Lena to allow him to use the new and improved Reproducer to make another Lena. One he can have for himself. Again with Dr. Harvey's help and Lena's permission, Bill creates another Lena that he calls Helen. The experiment seems to have worked but new problems develop that Bill did not foresee.
"The Four Sided Triangle" was released in 1953 and was directed by Terence Fisher. The screenplay was written by Fisher and was based on the 1949 novel by William F. Temple. Fisher directed over 60 movies but he wrote only 2. This one and "Man In Hiding" 1953. The film is a British movie and was produced by Hammer Films Production. It is one of Hammer's first attempts into the science fiction genre along with "Spaceways" 1953 which was also done the same year. It is the fourth film Fisher did for Hammer. Technically "The Four Sided Triangle" could be considered a quota quickie.
The Cinematograph Films Act of 1927 was enacted by Parliament to stimulate the declining British film industry. The act required that British film houses show a certain amount of British made films, basically to counter all the cinemas being inundated with Hollywood films. There were certain requirements that British films had to follow. They had to be made by a British controlled company, made in a British studio with a British written screenplay etc, etc. To fulfill the requirements a whole bunch of low budget films were produced by British studios. Dubbed quota quickies they were similar to the poverty row films produced in America but many were done by larger studios.
Fisher was much better at directing horror than he was science fiction. "The Four Sided Triangle" plays as more of a melodrama than a science fiction film. It was alright but it took a long time to get to the real meat of the film. It's not my favorite Hammer film. The plot of the film is interesting I just didn't feel like they took it as far as they could have. There are a few whiz bangs but they are more subdued than in normal science fiction films. I would still recommend the movie, just don't look for a lot of science fiction stuff. The film concentrates on the characters not the whiz bangs.