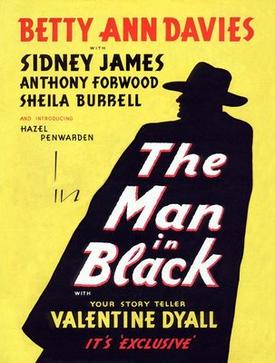 Henry Clavering (Sidney James) is rich and dying. He is the owner of Oakfield House. Henry is married to his second wife Bertha (Betty Ann Davies). Bertha has an adult daughter Janice (Sheila Burrell), who is Henry's step-daughter. Bertha is a gold digger who is waiting for Henry to die. Janice is an obnoxious bitch. Henry also has a daughter from his first wife. Joan Clavering (Hazel Penwarden) is currently in school in Belgium.
Henry is an expert in Yoga. One evening during a party Henry says he is going to demonstrate a technique that will put him in a cataleptic trance. He will appear dead. He explains that it took years of training to be able to do this technique. He will be awakened by one of his guests touching his face in certain places. He also says there must be absolute silence while he goes into his trance. Henry sits in a chair and goes into his trance. At a crucial moment Henry's picture falls off the wall and crashes to the floor. Henry falls to the floor dead.
Joan returns to the estate. At the reading of the will Joan gets just about everything. Bertha gets 50,000 pounds and Janice gets 100 pounds. A codicil to the will says that if Joan dies or is incapable of administering the estate due to mental incapacity before she reaches the age of twenty-one Bertha gets the estate and Joan gets the 50,000 pounds. Providing she's alive of course.
Henry's body is placed in the family vault and Bertha and Janice begin a campaign to make Joan go insane or think that she is insane. Whatever works. While they are busy with tapping on windows and creaking floors Janice's con-man fiancé Victor Harrington (Anthony Forwood) shows up looking to sweep Joan off her feet and steal the inheritance out from under Bertha and Janice.
One evening Victor is drunk and tries to assault Joan. She runs away and Victor tries to go after her. Victor is stopped by a grounds man. Victor accidently kills him and puts him in an empty coffin in the crypt. Bertha finds out. The next night Victor again tries to attack Joan. She pushes him away. He falls and hits his head. Joan thinks she killed him but his body disappears. With the body missing Bertha wonders if the grounds man is really dead or not. She drags Joan and Janice down to the vault to make sure. In the crypt they find Victor's body in the coffin.
There are more twists and turns and some slightly puzzling moments. From then on you begin to wonder who is gaslighting who?
"The Man In Black" was released in 1949 and was directed by Francis Stearle. It is a Hammer Mystery film with a nourish flavor. It was adapted by Hammer Film Productions from the popular British radio series called "Appointment with Fear" that featured Valentine Dyall as sort of a narrator and story introducer. "The Man in Black" is not about a man in black. As in the radio series Dyall provides the on screen introduction to the film, as "The Story-Teller".
Hammer offered several films that were based on radio shows that were popular at the time. "The Man is Black" was one of them.
The film is in the "Gaslight" style. There are a couple interesting twists and turns to it. It's not a deep mystery but it is fun and entertaining. You may figure out ahead of time how it will end but that's OK since there are some amusing things along the way. It's done in a clever way and the performances are good.