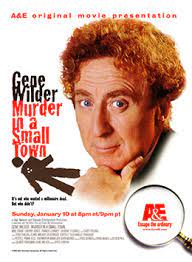 In 1938, after the death of his wife from a mugger, Lawrence "Cash" Carter moves to the small Connecticut town of Stamford. Cash was a well known Broadway producer and now directs plays for the Stamford Repertory Theater. Cash has an appointment with the millionaire Sidney Lassiter (Terry O'Quinn) to talk about getting a donation of $25,000 to redo the theater lobby and dressing rooms. Lassiter is cruel, spiteful and an all around nasty bully. While talking to Cash he makes some bigoted statements in reference to Cash's Jewish background. Cash calls him an anti-Semite and leaves.
This is not the first go round Lassiter had today. Earlier he had an argument with his son Albert (Matthew Edison) about Albert's carousing and his latest lover. He threatens to cut his son out of his will. When Cash first got to his office, he heard Lassiter arguing with his secretary Kate Faxton (Deirdre O'Connell) and threatening to fire her. Lassiter also has a string of mistresses, something that his wife Martha (Frances Conroy) is well aware of. Just about everyone in town hates Lassiter so it's no surprise when someone kills him.
Lieutenant Tony "Baloney" Rossini (Mike Starr) is assigned to find the killer. His prime suspects are, of course, Lassiter's son Albert, his wife Martha and his secretary Kate, but due to Lassiter's personality, the general list is anyone the spiteful man ever met. Tony and Cash became friends when Tony was lead investigator in Cash's wife's murder. Tony is aware of Cash's expertise in human observation and so enlists him to help analyze the suspects to see if his insights can help identify the killer.
Things heat up when Lassiter's will is read. Albert gets a million dollars in trust and Martha also gets a million dollars in trust. Lassiter's secretary Kate gets $100,000 dollars. A stipulation in the will says that if Albert or Martha die, their million will go to Kate. Martha is outraged since she is aware that, at one time, Kate was also one of her husband's mistresses. Another murder sends the investigation sideways.
"Murder in a Small Town" was released in 1999 and was directed by Joyce Chopra. It is an American made-for-television mystery crime-thriller that was made by the A&E channel. It was written by Gilbert Pearlman and Gene Wilder. The film was shot in Toronto, Canada.
Wilder was given carte blanche to do whatever he wanted. The result is a charming, well done murder mystery with great acting. Wilder is a connoisseur when it comes to comedic timing. His character is haunted by the death of his wife but his sweet and enchanting personality refuses to withdraw totally from life. The result is a vision of a soulful puppy dog that can't help but wag its tail. Wilder's humor blends well with Starr's "straight man" style. This is not a hard core noir who-done-it, but a light mystery with some 30's atmosphere. It's basically what you would expect from the Arts and Entertainment channel.
The movie takes place in the town of Stamford, Connecticut. Stamford is where Wilder lived with his third wife Gilda Radner and after her death with his fourth wife Karen Boyer. Wilder died in Stamford in 2016 from complications from Alzheimer's disease.