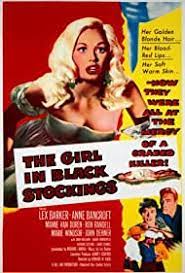 David Hewson (Lex Barker) is an attorney on vacation at a resort in Kanab, Utah. While there he meets and begins to fall in love with Beth Dixon (Anne Bancroft). While they are dancing and talking in the dark they find the body of one of the other guests, Marsha Morgan. Marsha is known as a playgirl. She was found with her throat cut and the rest of her pretty much sliced up. Sheriff Jess Holmes (John Dehner) is called. Holmes considers everyone staying at the lodge a suspect, including the owners Edmund Parry (Ron Randell) and his sister Julia Parry (Marie Windsor).
Edmund is a paraplegic. His sister cares for him. Beth also works for Edmund and helps with Edmund in addition to working the switchboard. When Edmund's girlfriend left him it affected him mentally and caused his paralysis. Now Edmund pretty much hates most women. David also ends up being a suspect due to his once dating Marsha before meeting Beth. The sheriff also interviews a washed up actor named Norman Grant (John Holland) and his ditsy girlfriend Harriet Ames (Mamie Van Doren). A drunken Native American named Joe (Larry Chance) gets picked up with the knife. The knife came from the Parry kitchen. Lots of suspects. Whoever the killer is, he's psychotic. A post mortem shows no sign of rape.
The next day Joseph Felton shows up at the lodge looking for a cabin. In his room he receives a call from a Mr. Prentiss. The conversation revolves around the murder of Marsha Morgan. Felton decides to stick around and see what he can find out about Marsha's murder. That night Joseph Felton is drowned in the lodge's pool. Later the sheriff finds out that Felton was a private investigator. David begins to do a little snooping on his own and begins to formulate his own ideas as to who the killer is. When Harriet is next to be murdered David is sure that he is on the right track.
"The Girl in Black Stockings" was released in 1957 and was directed by Howard W. Koch. It is a murder mystery and a film noir.
The movie was filmed on location in Kanab, Utah at an actual lodge called the Parry Lodge. The lodge was owned by the Parry brothers and often was where movie crews stayed that were filming in the area. Other scenes were filmed at Three Lakes and Moqui Cave in Utah and Fredonia, Arizona.
There is an interesting little parade of stars in this film. In addition to Lex Barker and a very young Anne Bancroft are Mamie Van Doren, John Dehner, Marie Windsor and even a cameo by "Bonanza's" Dan Blocker. In addition to the acting the story is solid and intriguing. Although it is technically noir is plays more like a "B" dime store novel film, more trashy than hard boiled. I still liked it but I believe I may be in the minority.
It's about this time when Lex Barker was going through his divorce with his third wife Lana Turner. Turner's daughter Cheryl Crane published a book fifteen years after Barker's death accusing him of molesting her over a three year period when she was a child. Reportedly Turner ordered Barker out of the house at gun point. After the divorce Barker's career took a down turn and he went to Europe to do films.