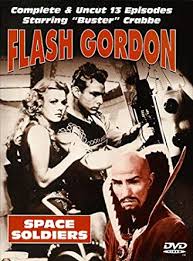 "It's only a question of time. Soon the Earth will be smashed to atoms."
The Earth is on a collision course with a rogue planet that has entered the solar system. Flash Gordon (Buster Crabbe) is on his way back to be with his father when the end of the Earth occurs. Dale Arden is (Jean Rogers) is on the same plane with Flash when it a meteorite storm causes the plan to crash. Flash and Dale bail out, using the same parachute, and land near Dr. Hans Zarkov (Frank Shannon) and his space ship.
Dr. Zarkov plans to fly to the runaway planet and see if there is a way to save the Earth. Zarkov is convinced that there are people living on the rogue planet. He convinces Flash to go with him. Dale insists on joining them.
Once they reach the strange planet they see a city in the distance. Before they can get to it they are attacked by giant lizards. The lizards are killed by spacemen and the trio is taken prisoner. The planet they are on is called Mongo. They are brought to Emperor Ming (Charles Middleton), (wearing his high-water bathrobe.) Dr. Zarkov suggests to Ming that instead of destroying Earth, why not conquer it? Ming falls for the ploy and Earth is saved.
Ming decides to use Dr. Zarkov's genius to his own advantage and installs him in his laboratory. Zarkov plans to use his service to Ming to try to find a way to best the emperor. Ming then decides to marry Dale. Ming has no problem forcing himself on Dale but, they must be married first. As for Flash, Ming intends to have him killed in the arena. Ming's daughter, Princess Aura (Pricilla Lawson), takes a liking to Flash and wants him for her own. Ming refuses so Aura does whatever she can to thwart her father and come between Flash and Dale.
Flash battles a sea beast, an orangopoid, a fire dragon, a Tigron, hawkmen, and a myriad of villains and monsters while Dale screams and faints.
"Flash Gordon" was released in 1936 and was directed by Frederick Stephani and Ray Taylor. It was so popular that it became Universal's second highest grossing release that year. Even though its budget was triple what was normally allotted for a matinee, many of the sets and props and even music were recycled from previous films such as "Bride of Frankenstein" 1935, "The Mummy" 1932, "Dracula's Daughter" 1936, "The Hunchback of Notre Dame" 1923 and "Phantom of the Opera" 1925.
Even if you've never seen a Flash Gordon TV show, serial or movie, or never read a Flash Gordon comic strip, you know who he is. He is as iconic as Captain America or Superman. The Universal serial with Buster Crabb is absolutely charming with all its 'special' effects, costumes and characters.
In 1996, Flash Gordon was selected for preservation in the United States National Film Registry by the Library of Congress as being "culturally, historically, or aesthetically significant".
Chapter Titles: 1. The Planet of Peril 2. The Tunnel of Terror 3. Captured by the Shark Men 4. Battling the Sea Beast 5. The Destroying Ray 6. Flaming Torture 7. Shattering Doom 8. Tournament of Doom 9. Fighting the Fire Demon 10. The Unseen Peril 11. In the Claws of the Tigron 12. Trapped in the Turrett 13. Rocketing To Earth