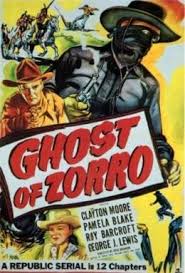 Jonathan White (Steve Clark) and his daughter Rita (Pamela Blake) are the owners of the Pioneer Telegraph Company. They plan on stringing a telegraph line from Saint Joe to Twin Bluffs. They hire Ken Mason (Clayton Moore) as an engineer. At first blush Ken isn't exactly impressive. Still he says he can do the job so White welcomes him aboard.
In the meantime Joe Crane (Gene Roth) is Twin Bluff's blacksmith, undertaker, Alderman and legal advisor as well as the only law/anti-law in the area. Crane gives sanctuary in the territory to several gangs provided they pay for it. To everyone else he appears to be an upstanding citizen. Crane is not happy with the telegraph coming. Knowing that the telegraph will bring law and order to his area he is willing to do whatever is necessary to stop it. With his head minion Hank Kilgore (Roy Barcroft), a large supply of minions and some willing Native Americans led by their chief Yellow Hawk (Alex Montoya), Crane sets out to destroy the Pioneer Telegraph Company.
Unknown to everyone is that Ken Mason is the grandson of legendary hero Zorro AKA Don Diego Vega. When White is killed by one of Yellow Hawk's men Rita is left alone to build the Telegraph line. Working with his partner Moccasin (George J. Lewis) Ken revives Zorro to even the odds. Ken has an ulterior motive for bringing Zorro to life. The criminals that are threatening the telegraph line are also the outlaws that were responsible for the destruction of his family ranch.
"Ghost of Zorro" was released in 1949 and was directed by Fred C. Brannon. It is a twelve chapter serial produced by Republic. At two hours and forty-seven minutes it's a short serial.
With Clayton Moore playing Zorro I kept getting confused thinking I'm watching a Lone Ranger movie. I had to keep reminding myself that the masked man is a different masked man and Tonto is really Moccasin.
The serial boasts the standard cliffhangers and stock footage aplenty. Most of the cliff hangers were runaway whatevers and exploding everythings. I was a little annoyed with Rita constantly pulling a Lois Lane and berating Mason while acting as if Zorro were Superman. Mason had done quite a few things on his own that were noteworthy. Still she keeps putting him down which is totally uncalled for, especially since she spends most of her time unconscious at the end of most chapters.
Unfortunately for Moore, someone else's voice is dubbed when he's Zorro. I would have preferred that they let Moore do his own dialogue. The actor that does his voice is never credited. On the plus side, there's some really good stunt work. There were twelve stunt people on the serial. Tom Steele doubled for Moore. Another plus was Gene Roth. I always enjoy he laid back off the cuff style. It's basically a rather worn out compilation of chapters but Moore and Roth add a little something to it that brings it up to an enjoyable few hours.
CHAPTER TITLES: 1. Bandit Territory; 2. Forged Orders; 3. Robber's Agent; 4. Victims of Vengeance; 5. Gun Trap; 6. Deadline at Midnight; 7. Tower of Disaster; 8. Mob Justice; 9. Money Lure; 10. Message of Death; 11. Runaway Stagecoach; 12. Trail of Blood.
The upload is out of sequence 1,10,11,12,2,3,4,5,6,7,8,9