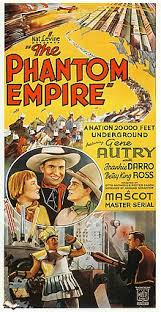 "That's our motto, 'To the rescue'."
Gene Autry (Gene Autry) is half owner of a dude ranch called Radio Ranch. From there he broadcasts a radio show every day at 2:00. If he were to miss a broadcast he would lose the ranch.
His partner's two children Frankie Baxter (Frankie Darro) and Betsy Baxter (Betsy King Ross) have started a club they call the Junior Thunder Riders. They dress as armored knights with capes. They named their club after a group of riders they say they saw racing on horse back through a valley. The sounds their horses made sounded like thunder.
Little do they know that the Thunder Riders are actually people belonging to a race from an underground empire called Murania. 100,000 years ago during an ice age a lost tribe called Mu moved 20,000 feet below the surface and built an entire empire underground. The empire is ruled by an evil queen called Tika (Dorothy Christy). The hidden city has robots, ray-guns, elevator tubes and many other advanced tools and weapons. Queen Tika is unhappy about Gene Autry and the ranch. She fears that people will find out about their civilization if Autry continues to broadcast his show. She plans on either killing or kidnapping Autry. Whichever comes first.
Also underground are a group of revolutionaries run, in secret, by the High Chancellor Lord Argo (Wheeler Oakman). They are rebels plotting to overthrow the evil Queen.
In the meantime on the surface are a group of criminals led by Professor Beetson (J. Frank Glendon). They have discovered that the area near the Radio Ranch has radium. They also want the Radio Ranch to close down so that they can exploit the area. They also want to kill Autry.
"The Phantom Empire" was released in 1935 and was directed by Otto Brower and B. Reeves Eason. This quirky little serial produced by a small company called Mascot. It is basically of the weird west sub-genre. It is part singing cowboy (Gene Autry), musical, western and part science fiction and or fantasy. As such it is probably one of the first of the sub-genre preceded only by the truncated serial turned movie "The Rawhide Terror" in 1934. This was Gene Autry's first starring role, he of course plays himself. The idea for the plot came to writer Wallace MacDonald when he was under the influence of nitrous oxide having had a tooth extracted.
The serial is really fun. There is a lot going on but it all ties together well. Normally serials have a lot of fist fights, people thrown off buildings or cliffs, train derailments and car crashes. This one has cowboys and ray-guns. Sure there are a couple fist fights and crashes, but how can you resist those wonderful cardboard robots.
The robots were originally created for "Dancing Lady" 1933 but were never used. They were subsequently used for the serial "Captain Video: Master of the Stratosphere" 1951.
Songs: "Uncle Noah's Ark", "That Silver-Haired Daddy of Mine" (chapter 1), "I'm Oscar, I'm Pete" (chapter 2), "No Need to Worry", "Uncle Henry" (chapter 4), "I'm Getting a Moon's Eye View of the World", "My Cross Eyed Gal", "Just Come On Back" (chapter 8).
Chapter Titles: 1. The Singing Cowboy; 2. The Thunder Riders; 3. The Lightning Chamber; 4. Phantom Broadcast; 5. Beneath the Earth; 6. Disaster From the Skies; 7. From Death to Life; 8. Jaws of Jeopardy; 9. Prisoners of the Ray; 10. The Rebellion; 11. A Queen in Chains; 12. The End of Murania.