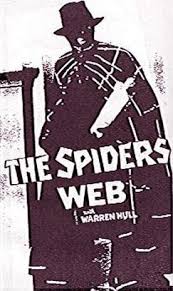 "The Octopus is on the loose again. Yes, three of his men just attacked me. No, no, I'm alright but send the coroner up here will ya?"
A cloaked and masked master criminal called "The Octopus" has launched a crime wave on the city. His intent is to take over all the major industries and utilities and put his puppet men in place. Everything that keeps a city running, electricity, gas, water and transportation are targeted. A bus terminal is blown up, a train crashed and an airport attacked. The electrical grid is also attacked as well as other utilities. The police don't know where he is going to strike next.
Richard Wentworth (Warren Hull) is a wealthy amateur criminologist and well known in political circles as well as the police force. He assists the police in trying to find out who the Octopus is and what to do to stop him. Wentworth's alter ego is The Spider, a crime fighting vigilante that walks the line between the law and crime. The police believe he is responsible for some of the crime wave so he works in secret. His identity is only known to a select few. His fiancé Nita Van Sloan (Iris Meredith), his assistants Ram Singh (Kenne Duncan) and Jackson (Richard Fiske) as well as his butler Jenkins (Don Douglas). With their help he fights crime and brings the bad guys to justice.
In his arsenal of weapons The Spider uses two .45 semi-automatic pistols. Wentworth also uses another disguise in his pursuit of justice, he plays a small time hood named Blinky McQuade. Through this disguise he can garner information from the underworld on what The Octopus is up to. Wentworth wears a cape, a hood and a fedora to battle crime.
"The Spider's Web" was released in 1938 and was directed by James W. Horne and Ray Taylor. It is a 15 chapter serial from Columbia Pictures. This was the fifth of the fifty-seven serials produced by Columbia.
The serial is said to be the inspiration for Stan Lee's superhero Spiderman. The Spider first began as a character in pulp magazines.
Most of The Octopus' power comes from a vast horde of minions. Later on he does come up with a nifty looking ray gun that he uses to shoot airplanes out of the sky. Unfortunately for The Octopus it doesn't last too long.
Nita Van Sloan proves to be a capable partner to Wentworth. No wonder he wants to marry her. She's willing to jump into any situation that arises to the point of jumping on the bumper of a car to follow the bad guys. It was unexpected and kinda cool. She is also the only one who had been kidnapped by The Spider and managed to get out of it, basically by herself.
There is a lot of action going on in this serial. And a lot of dead bad guys. There are a few situations that are contrived enough to require additional daredevil action. A mail plane takes off and The Spider knows it's going to be shot down. Apparently they can't just call him on the radio and tell him to turn around. Wentworth has to go up in his plane and get shot down. Also, everyone that Wentworth knows ends up kidnapped at least once and sometimes several times during the serial.
There were a few chuckles in with the daredevil antics. All in all it was a fun serial to watch. There was a lot of stuff going on and the action never stopped. Some battles The Octopus won and some The Spider won. Ultimately justice prevailed. As it should.
Chapter Titles: 1. Night of Terror; 2. Death Below; 3. High Voltage; 4. Surrender or Die; 5. Shoot to Kill; 6. Sealed Lips; 7. Shadows of the Night; 8. While the City Sleeps; 9. Doomed!' 10. Flaming Danger; 11. The Road To Peril; 12. The Spider Falls; 13. The Man Hunt; 14. The Double-Cross; 15. The Octopus Unmasked!.