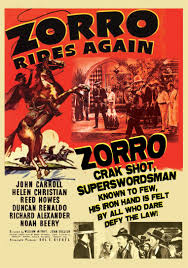 Don Manuel Vega (Nigel De Brulier) and his partners Phillip Andrews (Reed Howes) and his sister Joyce Andrews (Helen Christian) are building the California-Yucatan Railroad. J. A. Marsden (Noah Beery) is an investment banker and a profiteer who has designs on taking over the railroad at any cost. To that end Marsden has a henchman that goes by the name of El Lobo (Richard Alexander) and a never ending supply of minions.
Manuel sends for his nephew James Vega (James Vega). James is the great grandson of Don Diego de la Vega. Manuel hopes that some spark of Zorro's character has been instilled in James. He is disappointed when James turns out to be useless. What they don't know is that James is very much the Zorro his great grandfather use to be. The Vega family servant Renaldo (Duncan Renaldo) is the only one who knows that James is Zorro.
When Manuel is killed by Lobo and his men, Zorro goes to work avenging his death. Marsden has El Lobo and his henchmen sabotage the railroad by trying to blow up a train, a tunnel and flooding the construction area by sabotaging a dam. Several attempts are made to force Phillip and Joyce, at gun point, to either sign over their share of the railroad or forcefully stop legal papers from being filed or obtained to continue construction. Zorro, with Renaldo's help, thwarts him at every opportunity.
"Zorro Rides Again" was released in 1937 and was directed by John English and William Witney. It is a 12 chapter serial by Republic Pictures and an Adventure film. Technically it is also a superhero film. It is the eighth of the sixty-six serials produced by Republic. It is also the first in a series of five serials based on the Zorro character. The other serials were: "Zorro's Fighting Legion" 1939, "Zorro's Black Whip" 1944, "Son of Zorro" 1947 and "Ghost of Zorro" 1949.
The painting of "Zorro" that covers the entrance to the hidden passage to Zorro's Cave is of Douglas Fairbanks. Zorro sings from time to time. John Carroll does his own singing. He sings the serial's theme song "Song of Zorro" as well as "A Beautiful Shade of Blue". Zorro's horse's name was Dice.
It was a pretty decent serial. There are some good cliffhangers and some really good stunt work. Duncan Renaldo who plays Zorro's sidekick Renaldo is a wonderful character in the serial. He is just as impressive as Zorro when it comes to handling bad guys. He's smart and capable, a bit chatty but very competent. He's not an idiotic comic relief but he does have a few moments silliness. The horse Dice was also impressive as Zorro's mount El Rey (The King). There is enough variety in the fights and chase scenes to make it a fun watch. I especially liked Chapter 9 when he fools El Lobo into thinking that his horse is running away wild with no rider. In reality he is holding on to the horse and using its body to hide him.
In the original Zorro legend, the masked rider is masked because he is a wanted criminal. The duo identity was necessary to keep Don Diego de la Vega from being identified as Zorro. In "Zorro Rides Again" James Vega is the great grandson of the original Zorro and is not a criminal so the disguise is not really necessary, unless it is just to keep the spirit of Zorro alive. The secret identity of the Zorro character in the film is extended to the opening credits where Zorro and James Vega are credited as separate characters. This is much in keeping with the Zorro spirit and mystery of the serial.
The original Zorro was Don Diego Vega from the novel "The Curse of Capistrano" written in 1919 by Johnston McCulley. Zorro is the Spanish word for Fox. Zorro was a Californio. A Californio is a Hispanic native to the state of California. Originally he was a masked character who wore black and a cape. He primarily used a sword. The novel was the result of five serialized installments in the magazine "All Story Weekly". In 1920 the story was made into a movie starring Douglas Fairbanks called "The Mark of Zorro".
Early in the 50s, "Zorro Rides Again" was one of fourteen Republic serials edited and repackaged into a television series.
CHAPTER TITLES: 1. Death from the Sky; 2. The Fatal Minute; 3. Juggernaut; 5. Sky Pirates; 6. The Fatal Shot; 7. Burning Embers; 8. Plunge of Peril; 9. Tunnel of Terror; 10. Trapped; 11. Right of Way; 12. Retribution.