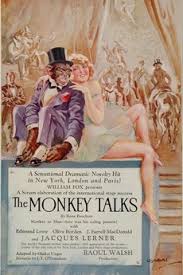 Papa Jules (August Tollaire) is the owner of Mata's Magnificent Metropolitan Troupe. It is a traveling circus that wanders the French countryside. Francois Faho (Jacques Lerner) is a member of the troupe. His friend Armand Durand (Don Alvarado) has been kicked out of his family for falling in love with a circus girl. Faho convinces Papa Jules to bring his friend into the fold. They bill themselves as a tumbling act. Together with Papa Jules' barker, Useless Lorenzo (Raymond Hitchcock), they travel around France.
On the road the circus ends up stranded when bill collectors catch up with them. Now destitute they need something that will get them out of the hole. Armand, now calling himself Pierre, comes up with an idea. They dress Faho as a chimpanzee and tell everyone that he has been taught how to talk. It works. Faho, billed as Jocko the talking monkey, is a hit.
Mademoiselle Olivette (Olive Borden) has a slack wire act. Pierre falls in love with the beautiful acrobat. Little does anyone know but Faho is also in love with Olivette. Faho cannot express his feelings. To do so would give away his real identity. When Pierre finds out that Faho is also in love with Olivette he feels sorry for the man. At one time Jocko saved his life in battle at Verdun and he feels he needs to give Faho a chance to compete for Olivette fairly. He decides to release Faho from his promise to keep his identity a secret. For awhile Faho maintains his alter ego.
Things get a little complicated when Pierre's former love Musette (Jane Winton) shows up with her partner Bergerin (Malcolm Waite) and his lion act. When Mata learns that Musette is the one that got Pierre kicked out of his family he fires the lion taming act. Bergerin does not take this lightly. He cooks up a plan to substitute what he thinks is a talking monkey with a real chimpanzee. He then plans on leaving the country with his prize and get rich.
"The Monkey Talks" was released in 1927 and was directed by Raoul Walsh. It is a silent film and is basically a romantic drama. A bizarre one but still a drama. It is part of an unusual sub-genre known as the circus movie. This sub-genre lends itself to strange things. They are usually full of odd characters and weird story lines. This one is no different.
Rather obscure and in horrendous shape, it is a good example of how bad a film can get without proper care. Unfortunately there are only bad copies of it available. Parts of it are difficult to understand since you can barely see what is going on and can't read the title cards. The first ten minutes and the last ten minutes are the worst parts. Despite the really bad parts it is a compelling movie. It's only about 62 minutes long but there is a lot of action packed into it.
Lerner is phenomenal as the monkey Jocko. He's quite familiar with the part since he played it on stage. Granted the picture is no always very clear, but his mannerisms and stance look quite real. Also, the wonderful make-up done by Jack P. Pierce is fabulous. Again, because of the poor quality of the film, it isn't easy to tell but it appears that the supposedly real monkey is also a guy in make-up. Actually it's more obvious since he isn't as good at playing a chimpanzee as Lerner is.
There are many reasons this film should be restored. This is Jack P. Pierce's first film as a make-up artist. The subject matter is, again, quite bizarre, if not almost kinky. Jacques Lerner's performance as a simian is extraordinary. Raoul Walsh as director is also a plus. And last but not least, the lion's performance towards the end. Probably not on most people's list of reasons to save the film, but it is on mine. Of course most men would put the beautiful Olive Borden on their list of reasons, so if they can add her, I can add a lion.