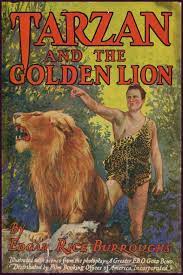 Lord Greystoke is known as Tarzan (James Pierce) in the African jungle. He is a friend and chief of the Wazari tribe and is waiting for the return of Jane (Dorothy Dunbar) and his sister Betty Greystoke (Edna Murphy). Tarzan's companion is Jab, a lion that he tamed. An exhausted John Gordon (D'Arcy Corrigan) is found wandering in the jungle. Gordon is an explorer who had escaped an obscure tribe in the jungle. Tarzan takes him home. While the stranger is resting Tarzan goes to meet the caravan.
In the meantime Jane and Betty are being escorted by Jack Bradley (Harold Goodwin) and some Wazari warriors. Watching the caravan are Esteban Miranda (Frederick Peters), his sidekick John Peebles (Robert Bolder) and Awaza (Boris Karloff), a disgraced former Wazari. They are there to plunder Tarzan's jungle home and any riches they find. Esteban decides that kidnapping Jane and Betty would also be a good idea. Esteban and his men attack just as Tarzan and his warriors arrive. Jane and Betty are saved but Esteban, Peebles and Awaza escape.
Back at Tarzan's place Gordon has revived enough to tell them his tale. He says he was captured ten years ago by the Tangani tribe, a Mountain clan that has a diamond mine built on top of a sacred temple. Gordon was forced to work for the tribe. Eventually he managed to escape with a bag of diamonds. Esteban is listening outside Tarzan's house. Jab is aware that there are strangers around. His restlessness prompts Tarzan to organize his warriors and head out looking for opposition.
Once Tarzan and his warriors leave, Esteban sneaks in and kidnaps Gordon. To make sure he doesn't lead them astray he takes Betty as a hostage. Gordon leads them to the mountain of the Tangani. The Tangani worship Mha, the sun god. The Tangani capture Betty and decide to sacrifice her to their golden lion Numa.
"Tarzan and the Golden Lion" was released in 1927. It is a silent adventure film based on the Tarzan character and Edgar Rice Burroughs ninth Tarzan book. Burroughs did twenty-four Tarzan books. The book was first published as a seven part serial in "Argosy All-Story Weekly" in 1922. It was then published as a novel in 1923. The movie is nothing like the book.
James Pierce plays Tarzan. It was his only appearance as the ape man. Edgar Rice Burroughs thought he looked like the Tarzan he imagined. Pierce was an all-American football player who was coaching in California. Two of his students were John Wayne and Bob Steele. He would later marry Burroughs' daughter Joan. James and Joan went on to play the voices of Tarzan and Jane in a Tarzan radio series that ran from 1932 to 1936.
Boris Karloff, in blackface, plays Awaza, an African from the Wazari tribe. The giant priest of the Tangani tribe is played by Lin-Yu-Ching, a Chinese giant who was eight feet tall and weighed 300 pounds.
The film is a silent one, however, the copy I have is unique. Someone, I don't know who, added sound effects and snippets of jungle music from other films, including Weissmuller's Tarzan yell, to, I suppose, spice up the movie. I can't decide if it adds or takes away from the film but it does make for a different viewing experience.
The movie was lost for several decades until in the 1990's a complete print with French intertitles was found.