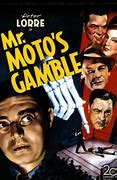 Mr. Moto (Peter Lorre) is in San Francisco teaching a course in criminology. One of his students is Lee Chan (Keye Luke), the son of the famous Chinese detective Charlie Chan. One night after class Lieutenant Riggs (Harold Huber) takes Moto and Lee to a prizefight between Bill Steele (Dick Baldwin) and Frankie Stanton (Russ Clark). The winner of the fight will take on the heavy weight champion, Biff Moran (Ward Bond). Stanton ends up dying during the fight. The cause of death is determined to be poison introduced through a wound over Stanton's eye. Since Steele's glove has poison on it the police believe that he poisoned Stanton.
Bets on the fight were large so money seemed to be a motive worth exploring. Clipper McCoy (Bernard Nedell) is a big time bookie. Recently there has been a lot of money bet on Steele to win. Even Nick Crowder (Douglas Fowley), the promoter that handles Biff Moran bets $10,000 that Stanton loses. Then there is someone named John Howard who managed to place bets all around the country on Steele winning. Some even think that Stanton's manager, Connors (George E. Stone) and fight promoter Philip Benton (John Hamilton) could be involved.
Before they can solve the case Lieutenant Riggs and Mr. Moto must first find out how the poison got on Steele's glove and who is John Howard.
"Mr. Moto's Gamble" was released in 1938 and was directed by James Tinling. It is a crime mystery and the third of eight Mr. Moto films featuring Peter Lorre as the Japanese detective. This is the fourth Moto film that was produced but the third that was released.
The film had intended to be a Charlie Chan film called "Charlie Chan at the Ringside", however due to problems with Warner Oland's erratic behavior the film was never finished. Oland had been going through a divorce at the time and combined with years of alcoholism his temperament on set was unreliable. One day he just left the set and never came back. After the divorce was final he eventually moved back to Sweden where he caught bronchial pneumonia and died.
As for the incomplete film, re-writes were done to change the movie to a Mr. Moto film. Keye Luke still played Lee Chan but he was taking a criminology course from Mr. Moto. It is the only non-Charlie Chan film that featured Lee Chan. Luke would reprise his Lee Chan character much later in Monogram's Charlie Chan films "The Feathered Serpent 1948" and "The Sky Dragon 1949". By then the Charlie Chan character was being played by Roland Winters.
The entire film is one of the sillier ones. Comedy relief is provided by actor and former boxer Maxie Rosenbloom who plays Wellington, a kleptomaniac punch-drunk boxer, and Keye Luke, who does what number one son always does, get in the way. Lt. Riggs, played by Harold Huber, is actually funnier and comes out with some amazing one-liners like "I'd still be single if I hadn't gone to the policemen's ball one year in a tiger skin", and "She's got her nose so high in the air she'd drown in a rainstorm".
Even Mr. Moto's character is more subdued than his established character in his previous films. There are no judo fights and Moto doesn't kill anyone. This is due to the film being originally written for Charlie Chan's temperament and investigative style. I still enjoyed the film and I will admit I have a fondness for the Mr. Moto movies. This one may not be as intense as the standard Moto film but I look at it as a sort of homage to Charlie Chan.
Lon Chaney Jr. has a cameo as a henchman. I believe he has two lines.