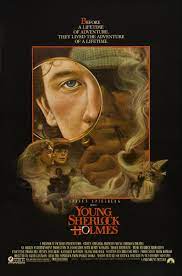 When his school in the country closes, young John Watson (Alan Cox) transfers to the Brompton Academy in London. The first person he meets is another student named Sherlock Holmes (Nicholas Rowe). Watson and Holmes soon become friends. Sherlock is in love with Elizabeth Hardy (Sophie Ward). Elizabeth is the niece of retired teacher Rupert T. Waxflatter (Nigel Stock). Waxflatter lives in the attic of the school tinkering on his inventions. A perk that Professor Rathe (Anthony Higgins) helped to procure for him. Everyone at school thinks Waxflatter is off his rocker but Holmes sees genius where everyone else sees crazy.
Recently there have been a couple strange deaths that intrigue Holmes. Bentley Bobster (Patrick Newell) jumped out of a window and Reverend Duncan Nesbitt (Donald Eccles) was run over by a cab. Holmes goes to the Metropolitan Police Headquarters to talk to Detective Sergeant Lestrade (Roger Ashton-Griffiths). Holmes is no stranger to Lestrade. Lestrade believes that one was a suicide and the other a carriage accident. Holmes on the other hand believes they are connected and therefore suspicious.
Holmes is closer than anyone thinks. The two men were shot by darts from a blowgun issued from a mysterious cloaked figure. The drug from the dart makes the victims hallucinate and results in the victim killing themselves to try to escape what isn't there. When his friend and mentor Waxflatter is killed in the same manner Holmes is determined to find out who the culprit is and bring him to justice.
With Watson by his side Holmes begins to secretly investigate the deaths and ends up uncovering an ancient Egyptian cult that is sacrificing women to Osiris and seeking revenge on those that defiled their temple. Holmes will ultimately come face to face with the most diabolical man he has ever met.
"Young Sherlock Holmes" AKA "Young Sherlock Holmes and the Pyramid of Fear" was released in 1985 and was directed by Barry Levinson. It is a fantasy adventure mystery based on the characters created by Sir Arthur Conan Doyle. The screenplay was written by Chris Columbus. Steven Spielberg is one of the executive producers.
The movie is noted for being the first theatrical film to have a computer generated image (CGI). The knight that comes out of the stained glass window was created by George Lucas' firm Industrial Light and Magic. It took them four months to create the sequence.
This was a lot of fun to watch. The special effects were impressive and the action was non-stop. It was interesting to see Sherlock Holmes as a character before he learned to suppress his emotions. The story is an original one but Chris Columbus introduced little snippets of images and scenes from actual Doyle stories. All together a fast and enjoyable film.
Nigel Stock, who plays Waxflatter, also played Dr. Watson in "Sherlock Holmes" 1964. Anthony Higgins who plays Professor Rathe also played Sherlock Holmes in the television movie "1994 Baker Street: Sherlock Holmes Returns" 1993.