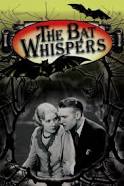 Variations on a theme "The Bat Whispers" 1930
The Bat is a masked criminal who robs and terrorizes a city. To escape the police he flees to the countryside and hides in a rambling estate that was leased by a mystery writer named Cornelia Van Gorter (Grayce Hampton). Various other characters come and go such as the maid/companion, Lizzie Allen (Maude Eburne), to Ms. Van Gorter, the caretaker of the estate (Spencer Charters), a niece Dale Van Gorter (Una Merkel) and her fiancé (William Bakewell), a couple detectives and various others to round out the compliment. Everyone is terrorized when they find out The Bat is among them. The mystery continues until The Bat is exposed.
"The Bat Whispers" was released in 1930 and was directed by Roland West. It is a pre-code comedy/mystery. The opening is phenomenal. It has Art Deco influences and unusual camera angels and eerie shadow effects. It has almost a noir feel. The look of the rest of the movie, once we get to the "old dark house" so to speak, is similar to what you would see on stage a with limited sets and sound effects that seem like someone off stage is manipulating everyday objects to make thunderstorm noises.
I really liked this movie. The dialogue was snappy and crisp. I especially liked the maid (who had the lion share of comedic dialogue). It's an old movie so the film and the sound may not have the clarity you expect. After all it was once considered a "Lost Movie" until a copy was found in the archives of the Mary Pickford Estate. But it's still a great movie. It was the first film to implore the audience at the end to not reveal its secrets to others who have not seen it. Bob Kane said he was influenced by "The Bat Whispers" when he created Batman.
Some history on the story: In 1908 Mary Roberts Rinehart wrote "The Circular Staircase". In 1915 a silent movie was made based on Mary's book by Selig Polyscope Company. "The film was also called "The Circular Staircase". It was the first feature length adaptation of the story. The film has since been lost. In 1920 Mary Roberts Rinehart and Avery Hopwood adapted the book into a three act play called "The Bat". It was a Broadway hit. The play was turned into a silent movie in 1926 and was again called "The Bat". It was remade in 1930 as a "talkie" and renamed "The Bat Whispers". The story was once again remade in 1959 and called "The Bat". The 1959 version starred Vincent Price and Agness Moorehead. It has also been adapted for television several times.