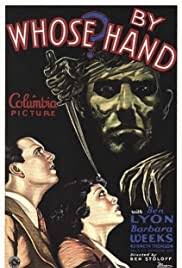 Intrepid reporter Jimmy Hawley (Ben Lyon) is at the train station looking to scoop everyone concerning escaped convict Delmar (Nat Pendleton). The police think he is at the station trying to get to San Francisco. At the station he meets beautiful Alice Murray (Barbara Weeks). Jimmy boards the train to San Francisco more to be with Alice than in pursuit of either story or killer. Also on the train is Chick Lewis (Dwight Frye). He ratted on Delmar. He is himself in handcuffs, under the supervision of a detective (William Halligan), and on his way to prison.
Among the passengers is Chambers (Kenneth Thomson) a married jeweler with a wandering eye. Eileen Aylesworth (Ethel Kenyon) a jewel thief. J.W. Martin (William V. Mong) a sour faced grouch with a past of his own. Mrs. Leonard (Helene Millard), a widow accompanying her dead husband's body to California. A perpetual drunk (Tom Dugan) and a pair of newlyweds, (Dolores Rey) and (Lorin Raker).
While Jimmy is romancing Alice, Eileen is romancing Chambers. Jimmy wants the girl, but Eileen wants the ice that Chambers is carrying. Chick, on the other hand wants to escape. The widow Mrs. Leonard is not who she purports to be. She is in reality Mrs. Delmar and her husband is not dead in his coffin but very much alive. Mr. Delmar is on the train and looking for Chick. Chick is looking to get out and Chambers has more than his share of people watching him.
By twists and turns there is more here than just one murder and there are lots of secrets to be revealed.
"By Whose Hand?" was released in 1932 and was directed by Benjamin Stoloff. It is a pre-code murder mystery and one of Columbia's "B" movies. At one time the movie was thought to be a lost film but somewhere around 1998 it, and a number of other Columbia early talkies, were found and preserved. It is a little obscure due to it being out of circulation for decades.
There was a silent movie done in 1927 with the same title. It is a lost film. Some say the 1932 film is a talkie remake of the 1927 film but some say it definitely is not. Since the older one is lost, I can't verify anything about it other than is was also a Columbia Pictures film.
There are a lot of standard tropes in this film that, in 1932, were not yet tropes. Switching off the lights when someone has a gun pointed at them, black stereotype in the form of Oscar Smith as a porter on the train, runaway train, intrepid reporter, drunken passenger, newlywed couple passengers, love at first sight. Even some of the jokes are recycled.
Since it is pre-code there are references to drugs, infidelity and some sexual innuendoes. Nothing really overt. It's a busy little movie with five murders and a fist fight on top of a train, which is another trope. All together a pleasing little movie to pass the time. I would hate to see it stay in obscurity. Especially since Dwight Frye is in it and he didn't get to do much acting, other than maniacs, before he died.