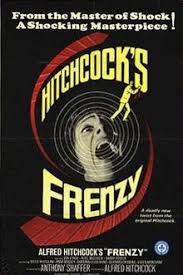 There is a serial killer in London. He rapes and strangles women with a tie. The papers call him the "Necktie Strangler".
Richard Blaney (Jon Finch) is an ex-bartender. He got fired this morning for helping himself to a brandy. He ends up at the office of his ex-wife Brenda (Barbara Leigh-Hunt). Barbara owns and operates a match making company. Richard is a bit mad at the world right now. He takes some of his anger out on Brenda. Brenda is ever patient with Richard. They had been married ten years and divorced for two. She knows what kind of a man he used to be and there is still some fondness for the guy. Brenda takes him to dinner and slips him some money when he isn't looking.
The next day Bob Rusk (Barry Foster) goes to visit Brenda in her office. Bob owns a produce company. He also happens to know Richard. Bob is looking for a mate, but not a normal mate. He has certain sexual peculiarities that he needs in a partner. Ones that Brenda's business doesn't handle. She has refused to take him on as a client before. Bob rapes Brenda in her office. When Bob begins to take off his tie, Brenda realizes he is the necktie strangler.
After Bob leaves Richard shows up at Brenda's office. Finding the door locked and no answer to his knock Richard leaves. As he is rounding a corner do go down a side street he is seen by Brenda's secretary (Jean Marsh). A fact that the secretary reports to the police after she discovers Brenda's body.
Richard calls his girlfriend Barbara "Babs" Milligan (Anna Massey). She also worked in the pub Richard use to work at. They spend the night together at a hotel. In the morning they find out about Brenda. Richard is in a panic. He believes that he will be a suspect. Planning to go to Paris in a couple days, Babs goes back to the pub to get their belongings. She runs into Bob who offers to let her stay at his place. He says he will be away and the place will be empty. Babs goes to check it out. Later that night Bob hides her body in the back of a potato truck.
Richard is now the only suspect in the necktie murders. He goes to Bob for help. Bob agrees but instead turns him in. Richard is caught. Richard now knows who the necktie murderer is and he has a plan for revenge.
"Frenzy" was released in 1972 and was directed by Alfred Hitchcock. The film is based on the novel "Goodbye Piccadilly, Farewell Leicester Square" by Arthur La Bern. It is the second to the last movie Hitchcock made, or the penultimate if you prefer. His last movie was "Family Plot" in 1976. Hitchcock's wife Alma had a stroke during the filming of the movie. Since he was tending to her, some of the scenes were shot without him.
The cameo: Alfred Hitchcock's cameo appearance occurs in the beginning of the film. He can actually be seen several times in the crowd gathered about listening to Sir George's speech and also looking into the river at the latest necktie victim. He is wearing a bowler hat.
Vivian Merchant, as Chief Inspector Oxford's wife, is absolutely precious. As for Bob Rusk, if he hadn't been a serial killer he would have just been a slimy dog. Either way, not someone who would have a lot of female friends.
There's been a lot of controversy from critics on the film. Some thought the movie was Hitchcock's return to his original style of movie making. Some disagreed. I don't think you can tie a director down to one style. Not only do directors grow in their knowledge of film making and how they experiment with directorial style but times also change. The underlying theme between "Psycho" 1960 and "Frenzy" 1972 may be similar in that they both deal with psychosexual murder but public reaction is different. In "Psycho" the nudity in the shower scene is more or less suggested. In "Frenzy" there are four of them.
Hitchcock actually blends the two styles together in "Frenzy". The first rape and murder done by the known killer is on screen and graphic. The second is off screen and Hitchcock uses one of his standard suspense elements of only showing the camera pan down the staircase and into the street. Since the murder is off screen your imagination fills in the blanks. I think the blending of the two styles gives your brain a little break. The sex and violence isn't in your face all the time, and the slow build up of tension in the suggestive scenes isn't constant to the point of being too stressful. I consider the movie one of my favorites.