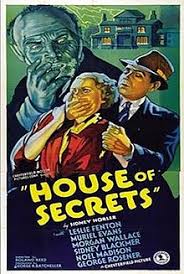 "Barry Wilding, if something terrible happens to you here it will be your own fault."
On a ship crossing the English Channel, Barry Wilding (Leslie Fenton) comes to the aid of a young woman, Julie Kenmore (Muriel Evans), when she is being harassed. He is immediately smitten and wants to know more about her. She, on the other hand, is very mysterious and won't even tell him her name.
When Barry gets to London he gets a letter from a lawyer requiring his attention. The attorney tells him he has inherited an estate from an uncle that passed away a year ago. The estate is called "The Hawk's Nest". He is required to sign a declaration that he will never sell the property. When he goes to look over the estate he is chased off the property by squatters.
Julie shows up at his hotel and tells Barry she is living at "The Hawk's Nest" and he must allow her and her father, Dr. Kenmore (Morgan Wallace), to continue to live there for at least six months. She also asks him not to visit the estate. His curiosity peaked Barry tries to figure out what is going on. Added to the mix are some American gangsters looking for treasure they believe is hidden somewhere in the mansion.
Barry's friend Tom Starr (Sidney Blackmer) is an American detective on the trail of a murderer he believes is in England. Barry enlists his help with Scotland Yard to unravel the mystery. Unfortunately Starr runs into a brick wall trying to get Scotland Yard to help him find out what is happening. Everyone's advice is to go back to America and forget it. It seems that everybody's got an agenda and nobody's talking.
"The House of Secrets" was released in 1936 and was directed by Roland D. Reed. The movie was based on the play and novel by Sydney Horler. Although prolific, writing some 158 novels, Horler was not without controversy. A well known sexist, racist, homophobic, xenophobic and misogynist, well, let's just say Horler was not nice. Not having read any of his works I couldn't tell you if his prejudices were rampant in any of his other works, but for this movie they seemed to be at bay.
As for the movie itself, it was fast paced and, for the most part, quite engrossing. I found myself intrigued by the mystery and wondered how it all would come together. The ending, however, was not as satisfying as the chase.
Yes, there were times when I was tired of hearing "I can't tell you." by just about everyone at one time or another but I still had to watch till the end to find out what no one was talking about. I was definitely let down by ultimate reason for the secrecy and for what was apparently supposed to be a little twist at the end, but still, the movie was entertaining. The plot was diverse and, yes, perhaps held together by somewhat implausible circumstances but the cast good.
I have heard that Horler's works are a kitchen sink of characters, plots and tropes and this one is no exception. I myself don't mind that kind of movie. I still enjoyed it more than I didn't.