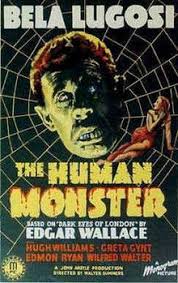 "He deserves no pity. When a dog goes mad he has to be destroyed."
Dr. Orloff (Bela Lugosi) is the ruthless proprietor of a life insurance agency. In his spare time he sponsors a charity Home for the blind. He also serves as a medical advisor to the institution. Of course it is actually a front for his nefarious dealings. He loans money to those who are short on funds using their life insurance policies as guarantee. He does this for his special clients. Those who have no relatives. Then he kills them. Orloff finds out that one of his clients, Henry Stuart (Gerald Pring), who he thought had no relatives, actually has a daughter, Diana (Greta Gynt), who is returning from America.
Scotland Yard is finding bodies in the Thames River. Quite a few of them. As part of their investigation they learn that the victims have life insurance policies with Dr. Orloff. Detective Inspector Larry Holt (Hugh Williams) is sent to find out what he can. Eventually he finds out that the policies have the Dearborn Home for the Blind as the sole beneficiary. The latest victim turns out to be Diana's father.
The investigation into the drownings shows that the victims were drowned in tap water and then put into the Thames. Its now officially murder. Suspicion falls on Dr. Orloff and the Dearborn charity.
The Dearborn Home for the Blind is located in a seedy part of town in an old warehouse that is next to the Thames. The institution is run by Professor John Dearborn. He is blind himself and requires assistance to maintain the records for the home. He needs a seeing person as a secretary. He hires Diana to work for him. Diana's reason to apply for the job is to snoop around the Home. She finds much more than she expects.
"The Human Monster" was released in 1940 in the US, 1939 in the UK and was directed by Walter Summers. It is a British film and was titled "Dark Eyes of London" in the British release. The European English speaking version was titled "Dead Eyes of London". It was remade in 1961 in Germany as "The Dead Eyes of London" or "The Dark Eyes of London".
The movie was based on a story by Edgar Wallace. The man that penned "King Kong". There are a couple distinctions for this little movie in Britain's film industry. It was the first to receive an "H" rating. This was a new rating specifically designed to discourage the horror genre. An "H" rating meant adults only. Anyone under the age of sixteen was not allowed. Period. It was also the last horror movie released in Britain before WWII. Horror movies weren't again made until after the war was over.
Comic relief is in the form of Lieutenant Patrick O'Reilly (Edmon Ryan) as an American police officer who is there to learn British police procedure and is kind of on loan to Scotland Yard.
Lugosi is quite evil in this film and quite good. Actually he's excellent. It's one of his best performances so do yourself a big favor and make sure you get a good transfer or you will not enjoy it. I'd hate to see this movie go by the wayside. It deserves better.