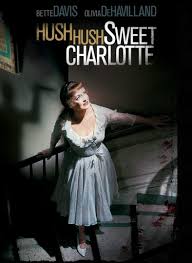 The Hollis plantation is owned by Sam Hollis (Victor Buono). Sam's only living relative is his daughter Charlotte (Bette Davis). When Charlotte and her married lover John Mayhew (Bruce Dern) plan on running away together John's wife Jewel (Mary Aster) tells Sam. Sam puts a stop to it and orders John to tell Charlotte that it's over.
A dance is scheduled the next night at the plantation. When Charlotte meets John out in the summerhouse he breaks the news to her. He tells her he doesn't love her anymore. In tears Charlotte runs away. Soon after that John is killed in the summerhouse, his right hand and his head are cut off. Not long after that Charlotte reenters the ballroom in a daze with blood all over her dress.
Thirty-seven years later Charlotte is a spinster living alone in the mansion. Her only company is her maid Velma Cruther (Agnes Moorehead). Charlotte's father has since died and is buried in the family cemetery. Charlotte inherited the family wealth and property. The property has since been taken by the county so a new interstate and bridge can be built. Charlotte refuses to leave and threatens to shoot the construction people.
Charlotte has written to her cousin Miriam Deering (Olivia de Havilland) for help. Miriam was a poor relation that lived with the Hollis family. Since then she has moved to New York City. Now she is back and Velma is suspicious of her. Charlotte's doctor is Drew Bayliss (Joseph Cotton). He use to date Miriam but broke it off soon after John was murdered. After Miriam's arrival Charlotte's mental state goes downhill. Velma believes Miriam is after Charlotte's money.
In the meantime an insurance broker from Lloyds of London, Harry Willis (Cecil Kellaway), arrives in town investigating and unclaimed insurance policy on John Mayhew's life. While Miriam and Drew rekindle their relationship Harry meets Charlotte and honestly charms her. Velma's suspicions about Miriam causes her to contact Harry and ask him for help in proving that they may have something to do with Charlotte's state of mind deteriorating. But secrets from the past begin to catch up with everyone that was at the Hollis plantation dance that fateful night.
"Hush…Hush, Sweet Charlotte" was released in 1964 and was directed by Robert Aldrich. It is a psychological thriller and a mystery. The film is based on a Henry Farrell story called "Whatever Happened to Cousin Charlotte?" It was an unpublished story and a follow up to Aldrich's hit "Whatever Happened to Baby Jane?" which was also written by Farrell and also starred Bette Davis. The film was nominated for seven Academy Awards.
Originally the movie was to star both Davis and Joan Crawford; however, problems between Davis and Crawford, that were prevalent on the set of "Baby Jane", continued during the filming of "Hush…Hush" and eventually resulted in Crawford dropping out. Filming was put on hold until de Havilland was hired to replace Crawford as Miriam. The feud between Bette Davis and Joan Crawford was well known in Hollywood.
The cast and crew stayed at the Belmont Hotel outside Baton Rouge. When Joan arrived her rooms had not been made up so she had to sit in the lobby for an hour. When she got her bungalow it was next to the garbage disposal unit. Joan complained but Bette criticized her. Bette's room was larger and more luxurious. On the last day of location filming Crawford fell asleep in her trailer. When she awoke she found that everyone had left her behind and had gone back to the hotel. Crawford was convinced that Davis had engineered it. After returning to Hollywood, production was supposed to continue on set. Crawford admitted herself to hospital announcing she was sick. At first it was a ploy to get changes made to the script, but she actually convinced herself that she was sick. Aldrich eventually had to replace Crawford. When de Havilland was hired he told Davis and asked her to keep it secret until he returned. Bette called her press agent who leaked it to the press. Crawford found out about being replaced by hearing it on the news. Crawford was on the board of directors for Pepsi-cola. She had vending machines installed on the set. Bette Davis then had Coca-cola vending machines installed as well.
When Crawford complained about the work schedule Aldrich wanted the insurance company doctor to examine her. Crawford was pissed and refused to talk directly to Aldrich. All communication was done through Crawford's makeup man, Monty Westmore.
There isn't much that's creepier than a southern plantation; however, in this case, there seems to have been more horror going on off screen than on screen. Despite the hold ups and off screen shenanigans the movie is an intense and thrilling suspense film. It's a bit long but it doesn't bog down. Performances by some excellent actors keep the film fascinating. Especially Agnes Moorehead as Velma. No wonder she won a Golden Globe.
The painting of young Charlotte is of Bette Davis in her role as Julie in Jezebel (1938).