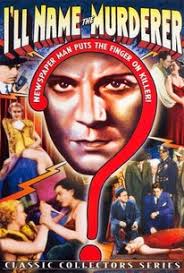 "Say I have half a mind to…" "I know you've only half a mind. What's on it?"
Tommy Tilton (Ralph Forbes) is a gossip columnist. He is at Luigi's café doing an errand for a friend. Ted Benson (Malcolm McGregor) is trying to get back some romantic letters he wrote to a singer at the café named Nadia (Agnes Anderson). Nadia has been blackmailing Ted. Ted wants to marry Vi Van Ostrum (Charlotte Barr-Smith). Vi's father Hugo Van Ostrum (William Bailey) is a well known society person and would not like having a son-in-law mixed up in a thing like that.
When Tilton threatens to expose one of Nadia's secrets she agrees to give Ted the letters, but later changes her mind. When Nadia is found dead Ted is at the top of the suspect list. He's not alone though. Also wishing the lovely Nadia dead is the café owner Luigi (Harry Semels), a rival named Valerie (Claire Rochelle) and her boyfriend Walton (Gayne Kinsey).
Tommy vows to help his friend and find out who the real killer is. Unfortunately he doesn't have much to go on except his gossip column. With innuendoes, hints and cloaked rumors Tommy hopes to flush out the killer before his bluff is called.
"I'll Name the Murderer" was released in 1936 and was directed by Raymond K. Johnson. It is a crime drama/mystery with comedic touches and is a poverty row 'B' movie.
Normally the amateur detective is a regular reporter. This is the first gossip columnist I've run across. I was pleased with the mystery. The who that done-it was a surprise too. In a sea of 30's detective mysteries this was different enough to keep my attention.
Like many mysteries of the era the film could use a little restoration. The picture is decent enough most of the time but the sound quality is a little muffled. It could use a fan club to keep it from falling into total obscurity.
The director on the film is Raymond K. Johnson. Some areas of the internet list the director as Bernard B. Ray. Many people think that Raymond K. Johnson is a pseudonym for Bernard B. Ray. According to "The Old Corral at b-westerns.com" by Chuck Anderson, this is incorrect.
Raymond K. Johnson was an actual person that directed a bunch of sound films. "I'll Name the Murderer" being one of them. According to Anderson there are some twenty plus films that were mislabeled on either IMDb or Wikipedia as being directed by Bernard Ray when they should be attributed to Johnson. Some of the incorrect information has been fixed on IMDb but not on Wikipedia.