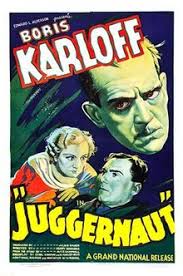 "I'm in the middle of a most interesting experiment."
Dr. Victor Sartorius Boris Karloff) is a, not so scrupulous, doctor working in Morocco. He is a research doctor working on a cure for certain types of paralysis. He is frustrated when funds for his experiments have been cut off. In addition he is ailing and his time is running out. He is forced to move to the French Riviera and set up a small practice there.
He is approached by Lady Yvonne Clifford (Mona Goya). She is the much younger wife of a cotton millionaire. Her husband is Sir Charles Clifford (Morton Selten). The beautiful Mrs. Clifford has been having an affair with a gold digging army captain named Arthur Halliday (Anthony Ireland). The captain will leave her if she does not come up with more money to sustain his life style. She asks Sartorius how much money he will need to continue his work. He admits he will need at least 20,000 pounds to finish his research. She is prepared to give him such a sum provided he becomes her husband's personal physician and kill him.
When Sir Charles's son Roger (Arthur Margetson) shows up the evil Lady Clifford is not happy. That alone could mark him for death. Sir Charles, well aware of his wife's affair, has given his son power of attorney over his estate. The lady is furious. During the resulting temper tantrum she attacks her husband and bites her step-son. (Of course she does it lady-like.)
The doctor prepares and gives Sir Charles the poison injection. He hands the empty syringe to his nurse, Eve Rowe (Joan Wyndham), to hold for a moment. In attending Roger's bite injury the nurse lays down the syringe not remembering where she placed it. Sir Charles dies. The doctor asks Nurse Rowe where she put the syringe. She can't remember where she placed it. Sartorius is in a slight panic. No one must find the syringe. He berates her viciously and orders her to find it. She is now a little suspicious. Why is the doctor so concerned about an empty syringe? Dr. Sartorius's nurse may be the only one who could put a stop to any more murders.
"Juggernaut" was released in 1936. It was directed by Henry Edwards and was produced by Twickenham Studios. That alone could make this movie one of the lesser known Karloff vehicles. Technically it's not really a horror movie and not quite a mystery movie since we all know who the murderer is. We just don't know how many murders Sartorius will be involved in to get what he wants and if he will be found out.
The film is only 64 minutes long so it doesn't take much time. As for how the movie was, I admit I am a big Boris Karloff fan so one of his movies has to be really bad for me to hate it. I really liked this one. Honestly. Not too many people have seen it but according to the ones that have, I am in the minority. I don't care if the plot of a movie is derivative. All movies are. There is nothing new in the way of storytelling. Just in the way you tell it. And the acting was good. As for Karloff, I thought he was good as well. A dying mad scientist who sold his soul for money. It could be because I'm a fan. It could also be that Karloff can make just about any movie better. The plot may not be new but I still enjoyed the performance.