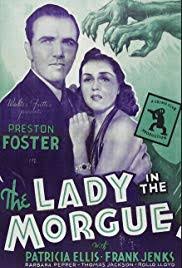 Twenty-three blond and beautiful.
A woman is found hanging in a room of the Darlow hotel. The room is registered to Alice Ross. The woman is believed to be a suicide. Her body is taken to the morgue. Bill Crane (Preston Foster) is there to see if the dead lady is the daughter of a wealthy client. When the body goes missing and the morgue attendant is killed Police lieutenant Strom (Thomas E. Jackson) and Police Inspector Layman (Morgan Wallace) suspect Crane stole the body. Crane and his assistant "Doc" Williams (Frank Jenks) run their own investigation looking for the body and who the woman actually is.
Before Crane can figure everything out he meets a brunette who knocks him unconscious, arouses the ire of a jealous band leader, and traces the missing body to a cemetery.
"The Lady in the Morgue" is a Crime Club movie produced by Universal pictures. It was released in 1938 and directed by Otis Garrett. This is the third movie produced under the Crime Club imprint. The movie was loosely based on the book "The Lady in the Morgue" by Jonathan Latimer.
I found the movie to be very confusing. Too many characters and too many names associated with the victim. I had to watch the movie a couple times to get things straight but I still had problems understanding it all. What I came up with was Mobster Steve Collins (Joe Downing) thinks it is his wife Arlene. She left him for Frankie French (Archie Robbins). Steve thinks Frankie killed her. Frankie French thinks the woman is Arlene Vincent. He thinks Collins killed her.
In the meantime Mrs. Courtland hires the Black detective agency to see if the dead woman is her daughter Katherine. The Courtlands come from money. Colonel Black (Gordon Hart) assigns Detective Bill Crane to the case. While at the morgue someone kills the attendant and steals the body of the dead woman. The police show up to take charge of the case.
A man calling himself Ian Brown shows up thinking the dead woman may be his cousin Edna Brown. Later Crane finds out that the man is really Chauncey Courtland (Bill Elliott) the brother of Katherine Courtland.
Then there is the band leader Sam Taylor (Roland Drew) who thinks it may be his wife who is also Katherine Courtland. Then Courtland tells Crane that he knows Arlene Vincent and she is now going by the name of Kay Renshaw (Barbara Pepper). Well, after that it didn't really get any clearer.
The plot was just too involved. Too many guys looking for too many women. It was fast paced, perhaps too fast paced. I suspect trying to get so much information into one 67 minute movie means some of the continuity is rushed. Once everything is sorted out and explained it was fine, it was just rather confusing getting there.