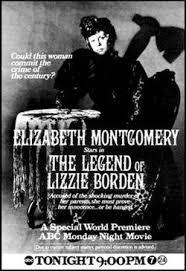 On August 4, 1892 in Fall River, Massachusetts Bridget Sullivan (Fionnula Flanagan) is seen running from the Borden residence to the home of Dr. Bowen (John Beal). Not getting any answer she runs back to the Borden home and disappears inside. Neighbor, Mrs. Adelaide Churchill (Amzie Strickland), sees the unfolding event and is concerned. She goes to the screen door of the Borden house where Lizzie Borden (Elizabeth Montgomery) is staring out into space. She asks Lizzie what is wrong. Lizzie responds "Oh Mrs. Churchill. Do come in. Someone has killed father."
Mrs. Churchill finds Andrew Borden (Fritz Weaver) slumped dead on the couch in the sitting room. Blood is splattered on the walls. Later after the police begin their investigation the body of Andrew's second wife Abby Borden (Helen Craig) is found in an upstairs bedroom. Both victims have been hacked to death with an axe. Lizzie's sister Emma (Katherine Helmond) was away visiting friends in Fair Haven at the time. She returns as soon as she is notified of her parents' deaths.
At the funeral tongues begin to wag. Some people believed that Lizzie doesn't act like a distraught daughter. She should at least be wearing black and covering her face with a veil. Since Lizzie and Bridget were the only other people in the house at the time of the murders suspicion falls on Lizzie. There is an inquest. At the inquest Lizzie is found probably guilty. Her conflicting responses to questions incur doubt in Judge Blaisdell (John Zaremba). Lizzie is held over for trial.
The trial begins June 5, 1893 and lasts until June 20, 1893. Besides the jury there is a panel of three judges that preside over the case. The prosecutor is Hosea Knowlton (Ed Flanders). All during the time Lizzie was incarcerated she had been given injections of morphine. Her Lawyer, George Robinson (Don Porter), contends that her contradictory testimony during the inquest was due to the drug. He also maintains that since Lizzie was given no access to a lawyer by the judge at the inquest her testimony should be thrown out. The current panel of judges agrees. Knowlton has little evidence left to prove Lizzie's guilt.
"The Legend of Lizzie Borden" was released in 1975 and was directed by Paul Wendkos. It is a historical drama and a made for TV mystery movie. The film was nominated for a Golden Globe award for Best Motion Picture Made for Television. It also won two Emmy Awards and received nominations for three others. The film is top notch and Elizabeth Montgomery gets to really show her talent in it. There are some excellent made for television movies out there. This is one of them.
Lizzie Andrew Borden was born July 19, 1806 and died June 1, 1927. She was thirty-two at the time of her parents' murders. Although the murders of Andrew and Abby Borden are fact, the actual events depicted in the movie are one interpretation of the events.
There is no actual proof that Lizzie Borden was responsible for her father and step mother's deaths but she was arrested and put on trial for the crimes. Before the murders there was tension in the household for various reasons but mostly stemming around money. Andrew was considered rich and miserly. Also staying at the house at the time was Andrew's brother-in-law, from his first wife and the girl's mother, John Morse. Reportedly he was there to discuss business matters with Andrew.
Lizzie's conflicting statements at the inquest made her the prime suspect in the murders; however, the police investigation was basically botched from the beginning. The fact that Lizzie was also on drugs during the entire time didn't help the court's case at all. In the end Lizzie was found not guilty. Whether she was or not is still up for debate. Suspicion also falls on John Morse, Bridget Sullivan and a Portuguese immigrant named Jose Correa de Mello that was convicted of a similar crime. He was exonerated when it was proved that he was not in the area at the time of the Borden family murders. There was also a wild speculation that Andrew had an illegitimate son that tried to extort money from him. Lastly Emma was talked about as a suspect by some. Whether or not she had time to return to Fall River commit the crimes and then return to Fair Haven, only 25 miles away, in time to get the telegram was a question.
Lizzie's motive was also speculated, both then and now. Money was, of course, the primary motive. A lesbian relationship between Lizzie and Bridget being discovered was another motive. Lizzie never married but Bridget did. There is no proof whether Lizzie was gay or not. Physical and/or sexual abuse was another idea that was tossed around. There was no evidence of incest either way.
Elizabeth Montgomery and Lizzie Borden were sixth cousins once removed, both descending from 17th-century Massachusetts resident John Luther.