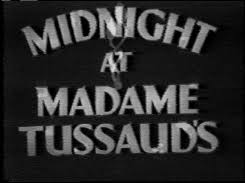 Sir Clive Cheyne (James Carew) is touring Madam Tussaud's Wax Museum with some friends. The museum is unveiling a likeness of Sir Clive as their latest exhibit. Sir Clive is a world famous explorer. The museum's creepy modeler Mr. Kelvin (Bernard Miles) gives them a tour of the museum. Especially the chamber of horrors. The more they see the weirder it gets. Sir Clive's friends are getting creeped out but Kelvin is getting orgasmic. Sir Clive isn't spooked so he is dared to spend a night alone in the museum. Sir Clive agrees so as not to look like a wimp.
While they are touring the museum Sir Clive asks his broker, and friend, about some funds there were to become due the next day. The broker, Harry Newton (Charles Oliver), is evasive about the money and puts Sir Clive off until later.
While this is going on, Sir Clive's niece Carol (Lucille Lisle) gets engaged to a gold digger named Nicholas Frome (Kim Peacock). Frome is in cahoots with slimy broker Harry and has a girlfriend Brenda (Lydia Sherwood). Sir Clive is suspicious of Carol's beau and it appears with good reason. Carol wants 50,000 pounds to give to gold digger beau.
A reporter, Gerry Melville (Patrick Barr), gets wind of the engagement and, like uncle Clive, is very suspicious of Nicholas, Harry and Brenda. Being intrepid he follows his nose to get the story and ends up a little smitten with Carol. The con men and woman are not happy with this new development. They need a fast track to Sir Clive and Carol's money.
Sir Clive will be alone tonight in the museum. Perhaps a visit is in order.
"Midnight at Madame Tussaud's" was released in 1936 and was directed by George Pearson. It is a British film.
The comic relief, in the form of the reporter's side kick, is Stubbs played by William Hartnell. He was, as you know if you have been roaming around Joe's Corner, the first Dr. Who. He played Dr. Who from 1963 to 1966. In the credits of this film he is listed as Billy Hartnell. He was only 28 at the time the movie was done.
The movie was OK but not as good as I was hoping it would be. Most of it is plot development. There is very little that happens in the museum itself. Plus there is no mystery of who the killer is. There is some stalking but even that is not real mysterious. There is also a twist at the end, but it's not a surprise twist.
The movie is only a little over an hour long so it doesn't take much time. The part that is in the museum is a little spooky but could have been so much better with a few noir touches.
The acting is so-so. Bernard Miles is the best one as the ever so strange wax modeler. Questions pop into mind like, what does he actually do with these wax figures late at night?