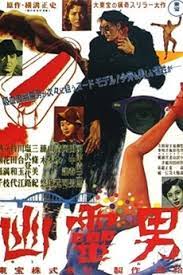 Kazuhiko Tsumura (Ren Yamamoto) escapes from the Kano Mental Hospital. It is run by Dr. Sansaku Kano (Joji Oka). The escaped man is known as the Vampire Artist. He can be identified by having only three fingers on his left hand.
At the Kyouei Art Club a strange man enters looking for a model. The Art Club provides nude models for artists. The man says he is Ghost Man Sagawa and was referred to the club by Dr. Kano. Ghost Man chooses a model named Keiko (Tamae Kawai). He gives an address where she is to appear. When she gets there Keiko is given a drink that is drugged. Another man enters the room. His face is covered in bandages. The man calling himself the Ghost Man flees from the room.
Later Keiko's friends are getting worried about her. Dr. Kano shows up at the modeling club. Since he has a car he drives everyone to the address given by the Ghost Man. When they get to the address they find Keiko dead in the bathtub. Police Inspector Todoroki (Gen Shimizu) interviews everyone.
When everyone is back at the club a tape recording begins to play. The Ghost Man takes credit for the murder and tells everyone that his next performance will be a wonderful show and that one of the other models will be in it.
Mitsuko (Mitsue Tachibana) has an appointment as a model. She is afraid to go by herself so Kikuchi (Haruo Tanaka) and Ko-chan (Haruo Tanaka) go with her. Everyone gets drugged. Eventually Mitsuko is rescued but is traumatized. What the police do find out is that Tsumura is not the Ghost Man but is working for him. The Ghost Man is someone who hides himself by wrapping his head in bandages.
When everyone goes to Izu to get away from the murders Mitsuko says home. At Izu, Sadako is killed. First they find her legs. Then they find the rest of her body in the pond. She is posed as if modeling. On the scene are private detective Kosuke Kindaichi (Seisaburo Kawazu) and his assistant Makihara (Kenzo Echigo). Kindaichi is working with the police. Clues bring them to the room of a man who says he is a friend of Dr. Kano. In the room they find Mitsuko dead.
There are more murders and strange messages. The evidence seems to point to Dr. Kano but is he really the Ghost Man or is someone trying to set him up?
"Ghost Man" was released in 1954 and was directed by Motoyoshi Oda. It is a Japanese Crime Thriller and was based on a novel by Japanese mystery writer Seishi Yokomizo.
This was an interesting who-done-it but trying to find out anything about the movie was difficult. As with a lot of Japanese movies the names are spelled different from source to source. Even the subtitles had different spellings of names so it's not easy to find out who the characters are and match them to the actors playing them. I'm not totally sure I got the characters names right or matched them up with the proper actors. It doesn't help that there are some red herrings in the mix. Add to that a couple leaps of logic and things can get a little confusing. Still, just watching it as a regular movie it turned out to be an interesting murder mystery with some unusual characters.
There is nudity in the film. Apparently Japan didn't have a Hays Act or a Motion Picture Production Code to worry about in the fifties.