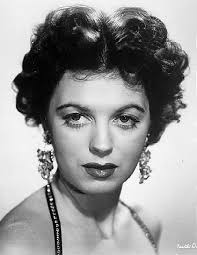 6/16/1924 to 4/4/1999
Faith Marie Domergue was born in New Orleans. Sources differ on if it was 1924 or 1925. She was part Creole but mostly of Irish and English decent. She was adopted when she was six weeks old. Her adopted parents Leo S. and Adabelle Domergue never told her she was adopted. In 1927 her adoptive parents took her to live in California. Just after her graduation she was disfigured in a car accident when she was thrown into a windshield. She spent 18 months undergoing intensive plastic surgery.
She was signed with Warner Brothers. Her first film was a walk on in "Blues in the Night" 1941. She appeared on the cover of Photoplay as Faith Dorn; the name change, she later claimed, was "because Jack Warner was too stupid to pronounce Domergue".
Billionaire Howard Hughes, 21 years her senior, became quickly infatuated with the teenager. He bought out her contract from Warner Brothers for $50,000. He then signed her to his studio RKO Pictures. He mollified her adoptive parents by buying them a house. The affair continued until mid 1943 due to his affairs with other women. In 1945 she went back to using the name Domergue.
In 1955 she starred in three sci-fi/horror movies. "This Island Earth (1955)", "It Came from Beneath the Sea" (1955) and "Cult of the Cobra (1955)" earning her a reputation as an early "scream queen". She also appeared in "The Atomic Man" (1955). She was in many "B" movies and Television shows. In the late 50's Faith appeared in a string of European productions.
Faith was married three times, Nightclub owner and bandleader Teddy Stauffer 1946-1947, Hugo Fregonese 1947-1958, and Paolo Cossa 1966–1992. She is married to Cossa until his death at age 62. She had two children, Diana Maria Fregonese and John Anthony Fregonese.
Other neat stuff: In the late 40's she suffered a miscarriage while filming "Vendetta". In 1968 she filmed her first Italian movie, "L'Amore Breve", in Trieste and at Cinecitta Studios, where she has some semi-nude scenes with Joan Collins. She spoke with a lisp. She spoke French, Spanish, and Italian well. Her last name was properly pronounced "Dah-mure," but was often mispronounced "Dommer-gue." Faith and her ex-husband, Fregonese, return from Europe to help their 19-year-old son John, who's attending Loyola University in Los Angeles. He wrote them that "he was in trouble; smoking marijuana and feeling himself slip into a mental state of confusion". In 1972 she publishes "My Life with Howard Hughes".
Faith died, as Faith M. Cossa, of cancer on April 4, 1999 at age 74 in Santa Barbara.