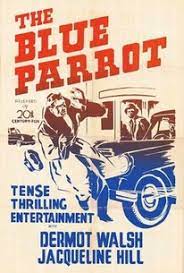 "In this country we don't carry guns, it leads to shooting."
"Rocks" Owen (Victor Lucas) is an independent cab driver.  To supplement his income, he sometimes deals in stolen gems.  In Soho, Rocks is having a drink at the Blue Parrot with one of the club's hostesses, Gloria (June Ashley).  A call comes into the club for Rocks.  He takes the call and then leaves.  The next day Rocks' body is found in his car on a country lane.  Rocks was shot in the head with a .38 special.
Lt. Bob Herrick (Dermot Walsh) is an American police detective on loan to Scotland Yard.  Herrick is in England to learn about the methods of investigation used by the Yard.  His mentor is Superintendent Chester (Ballard Berkeley).  When Bob hears about the murder of Rocks, he wants in on the investigation.  Chester sends Sgt Quinney (Richard Pearson) into Soho to look for clues.    
Quinney learns that the best place to start the investigation is at the Blue Parrot.  The shady club is owned by Henry Carson (John Le Mesurier).  Bob pretends to be a customer at the club.  Chester has also assigned an undercover agent, Sgt Maureen Maguire (Jacqueline Hill), to infiltrate the club.  Maureen poses as one of the club's hostesses.  With Maureen working on the inside and Bob working on the outside, the clues to what happened to Rocks are slowly pieced together.
 "The Blue Parrot" was released in 1953 and was directed by John Harlow.  It is a British low budget "B" crime drama and a sort of British film noir.
The actor that plays the American detective is Dermot Walsh, an Irishman.  That's enough for most people to trash the film out of hand.  I've seen American actors try to play Irish characters just as badly so I can't dis the movie just for that.  As far as I was concerned, Walsh did fine, not great, but fine.  The acting in general was good.  I especially liked Ballard Berkeley as the Superintendent and John Le Mesurier as the devious club owner.
The movie was actually cute, and that's about it.  The murder really isn't that interesting since the murdered guy is a criminal himself so why anyone would be invested in finding his killer is the question.  I consider it your standard British crime film of the time.  These little crime stores were pumped out by both British and American filmmakers by the dozens in the fifties.  This one was a little entertaining, so it managed to do its job.
Unfortunately, the budget is the worst part of the film.  The Blue Parrot looks more like a local café than a night spot.  And an unpopular café at that.   There seems to have been no money in the budget to pay extras to be customers.  All the extras they did have ended up squished in one corner.