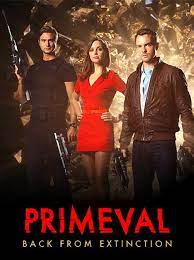 Between season 3 and season 4 there were a series of five web-only prequels that introduced the new characters and established their relationships with one another.  It also provided information on what happened to some of the previous regulars as well as explaining some of the other changes to the series. 
Webisode 1        The Anomaly Research Centre staff is questioned about the last mission where Connor (Andrew Lee Potts), Abby (Hannah Spearritt) and Danny (Jason Flemyng) were lost.  We also find out that the ARC activity was temporarily suspended.  Matt (Ciaran McMenamin) and Jess (Ruth Kearney) are interviewed and hired.  We find out that Sarah (Laila Rouass) died during a mission.
Webisode 2        ARC is moved to a new building and is owned by both the government and a private company, Prospero Industries, run by Philip Burton (Alexander Siddig).  Becker (Ben Mansfield) arrives at the new ARC and meets Jess, the new field coordinator.  Matt speaks in secrecy with someone named Gideon (Anton Lesser). 
Webisode 3        Matt is designated the new team leader.  He meets Jess and Becker.  He calls Gideon to give him an update on his impressions of the ARC team.
Webisode 4        Matt orders non-lethal weapons for the security teams.  Becker is not happy with that decision.  Matt gives a pep talk to the staff and lays down some ground rules.
Webisode 5        Jess asks Becker about Helen (Juliet Aubrey).  Becker tells her about Helen's mission to wipe out humanity before it began.  Gideon, who has a secret agenda, warns Matt not to mess up.
Webisode 1
Webisode 2
Webisode 3
Webisode 4
Webisode 5