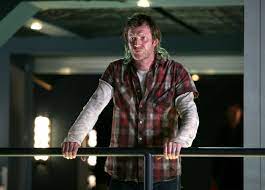 At an old prison that was turned into a museum, an anomaly opens in one of the cells, and a tourist disappears.  Connor (Andrew Lee Potts), Abby (Hannah Spearritt) and Becker (Ben Mansfield) arrive and close it.  While working part time for Philip (Alexander Siddig) at Prospero, Connor invented a gadget that is designed to tell what time period an anomaly leads to.  According to the device the anomaly dates to around 1870 or so.  For some reason the indicator can't pinpoint a specific date.  It does correspond to around the time that Emily (Ruth Bradley) belongs to.
Suddenly the anomaly opens again, and a Terror Bird from the Pliocene age comes out.  They force it back into the anomaly.  Becker suspects that Connor's new dating calculator caused the anomaly to open again.  Connor disagrees.  As the team checks the building, another anomaly opens up.  Another Terror Bird comes through.  Abby remarks that it is the same Terror Bird.  It appears that both anomalies are the same anomaly. 
When Matt (Ciaran McMenamin) finds out that Ethan (Jonathan Byrne) has a device to detect anomalies he heads for the prison to try to catch him.  He helps the team send the Terror Bird back into the second anomaly.  Then suddenly Danny Quinn (Jason Flemyng) comes through.  Danny helps the team as they search for Ethan.  When Danny and Ethan come face to face, Danny realizes that Ethan is actually his brother Patrick, who went missing through an anomaly when he was fourteen.
Suddenly more anomalies begin to pop up.  Connor figures out that the main anomaly is really two that opened up in the same place.  He separates them.  Using the dating calculator, he finds that one of them is from the Pliocene age and one is from the 1800's and Emily's time.    
Matt tells Emily that he is from the future and is trying to stop a future apocalypse by stopping the person responsible for creating it.  At first he thought it was Ethan but now he is back to square one.  Danny tells Matt that Philip knew Helen (Juliet Aubrey) and lied about it.  He tells Matt that Philip is not to be trusted.
Connor discovers something terrifying about the anomalies. 
Episode 7 of Season 4 features the return of the Terror Bird from the Pliocene age.
The Anomaly Dating Calculator was created by Connor Temple.  The handheld device could be pointed at an anomaly to determine the exact year the anomaly opens up to. 
Filming was done at Kilmainham Goal Museum in Dublin, Ireland