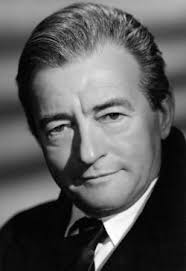 11/10/1889 to 5/30/1967
William Claude Rains was an English actor. He was born in Clapham, London. He grew up in the slums of London and was one of twelve children. His mother took in boarders in order to support the family. He had a cockney accent and stuttered. Because of it he called himself "Willie Wains". He left school after the second grade to sell papers in order to bring money home to the family.
His father was actor Fred Rains, so he would spend time in theaters. He made his stage debut when he was 10. He worked his way up in the theater. Looking for opportunity Rains went to America in 1913. However, during the outbreak of WWI he returned to England and served in the London Scottish Regiment. During a gas attack he lost 90 percent of the vision in one eye. He rose to the rank of Captain. After the war Sir Herbert Beerbohm Tree urged him to lose his cockney accent and lisp. Tree paid for elocution lessons. Claude was a teacher at the Royal Academy of Dramatic Art before going to Hollywood. One of his students was John Gielgud. John once said, "It was during my time at RADA, there was a man who inspired us all. Claude Rains. I don't know what happened to him, I think he failed and went to America". He became a US citizen in 1939.
Some of his better known movies were; "The Invisible Man" 1933, "Mystery of Edwin Drood" 1935, "The Clairvoyant" 1935, "The Wolf Man" 1941, "Casablanca" 1942, "Phantom of the Opera" 1943, "Notorious" 1946, "The Lost World" 1960 and "Battle of the Worlds" 1961.
Rains flunked his screen test for "The Invisible Man" (1933). The actor called it "the worst in the history of moviemaking", but director James Whale hired Rains anyway, remarking, "I don't care what he looks like; that's the voice I want."
Quote: "Often we'd secretly like to do the very things we discipline ourselves against. Isn't that true? Well, here in the movies I can be as mean, as wicked as I want to - and all without hurting anybody. Look at that lovely girl I've just shot!"
He married six times; Rosemary McGroarty Clark (1960-her death); Agi Jambor (1959-1960); Frances Propper (1935-1956); Beatrix Thomson (1924-1935); Marie Hemingway (1920-1920); Isabel Jeans (1913-1918). He had one child. He separated from wife Isabel Jeans three times. They finally divorced on grounds of adultery when she miscarried Gilbert Wakefield's baby. On the day his divorce from Frances Propper was final, he drove his Bentley into a ditch, totaling it. When they found him, he was passed out drunk on the ground and the car was upside down and on fire. His fifth wife, Agi, was a Hungarian Jew who had escaped the holocaust. On the way to their wedding she made him turn around and go back. She had forgotten to put on the underwear she had worn at her first wedding, which she insisted she wear for luck at her second. When Claude had had enough of Agi, he had the locks changed on their house while she was out shopping.
Claude Rains died from an intestinal hemorrhage at Lakes Region Hospital near his home in Sandwich, New Hampshire at age 77.