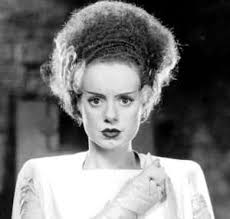 10/28/1902 to 12/26/1986
Elsa Sullivan Lanchester was an English actress with a long career in theatre, film and television. She was born in Lewisham, London. Her parents, James "Shamus" Sullivan (1872–1945) and Edith "Biddy" Lanchester (1871–1966), were considered Bohemian, and refused to legalize their union in any conventional way to satisfy the era's conservative society. They were both socialists, according to Lanchester. Her mother Edith was sent to an asylum for awhile because she would not marry James.
Lanchester studied dance as a child in Paris under Isadora Duncan. After the First World War she began performing in theatre and cabaret, where she established her career over the following decade. She met Charles Laughton in 1927 and married him two years later. She played small roles in British films. The couple moved to Hollywood, where Lanchester again played small film roles for awhile.
Her role in "Bride of Frankenstein" (1935) brought her recognition. She played supporting roles through the 1940s and 1950s. She was nominated for the Academy Award for Best Supporting Actress for "Come to the Stable" (1949) and "Witness for the Prosecution" (1957). She appeared in twelve films with Laughton. After Laughton's death in 1962, Lanchester resumed her career with appearances in such Disney films as "Mary Poppins" (1964), "That Darn Cat!", (1965) and "Blackbeard's Ghost" (1968). The horror film "Willard" (1971) was highly successful, and one of her last roles was in "Murder by Death" (1976).
Other movies Lanchester appeared in were; "The Spiral Staircase" 1945, "Mystery Street" 1950, "Bell, Book and Candle" 1958, and "Terror in the Wax Museum" 1973.
Some of her television appearances were in; "Ben Casey", "The Man from UNCLE", "It Takes a Thief", "The Bill Cosby Show", "Nanny and the Professor", "Night Gallery", "Mannix" and "Here's Lucy".
Lanchester alleges that she and Laughton never had children because he was homosexual. (It is more likely that he was bi-sexual.) Laughton's friend and costar Maureen O'Hara denied this was the reason for the couple's childlessness. She claimed Laughton had told her that the reason he and his wife never had children was because of a botched abortion Lanchester had early in her career of performing burlesque. Lanchester admitted in her autobiography that she had two abortions in her youth (one being Laughton's), but it is not clear if the second left her incapable of becoming pregnant again. According to her biographer, Charles Higham, the reason she did not have children was that she did not want any.
Lanchester suffered two strokes, becoming totally incapacitated. She required constant care and was confined to bed rest. She died in Woodland Hills, California in 1986 at the age of 84 at the Motion Picture Hospital from pneumonia. Her body was cremated and her ashes scattered over the Pacific Ocean.