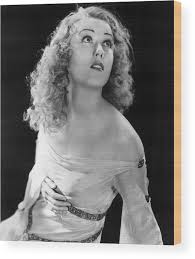 9/15/07 to 8/8/2004
Vina Fay Wray was a Canadian-American Actor. Wray was born on a ranch near Cardston in the province of Alberta, Canada. Her parents were Mormons. Elvina Marguerite Jones was from Salt Lake City, Utah, and Joseph Heber Wray was from Kingston upon Hull, England. She was one of six children and was a granddaughter of Daniel Webster Jones. Her family moved back to the US a few years after she was born. First to Utah and later to Hollywood, California.
Wray appeared in several silent films and shorts in the 20's before transitioning to the talkies. Some of her films were; "Doctor X" 1932, "The Most Dangerous Game" 1932, "The Vampire Bat" 1933, "Mystery of the Wax Museum" 1933, "King Kong" 1933, and "The Clairvoyant" 1935. She continued to appear in films until the 60's. She has 123 movie and TV credits to her name.
Her film "King Kong" (1933) saved its studio, RKO Radio Pictures, from bankruptcy.
She was the guest of honor in 1991, at the 60th birthday of the Empire State Building in New York City. Her nicknames are "The Queen of Scream" and "The Queen of the B's". She was 5' 3" tall. Her favorite movie that she did was "The Wedding March" 1928.
Wray married three times – to writers John Monk Saunders and Robert Riskin and the neurosurgeon Sanford Rothenberg. She had three children: Susan Saunders, Victoria Riskin, and Robert Riskin, Jr.
Awards: In 1989 she was awarded the Women in Film Crystal Award. At the 2003 Palm Beach International Film Festival she was honored with a "Legend in Film" award. Wray was honored with a star on the Hollywood Walk of Fame. She received a star posthumously on Canada's Walk of Fame in Toronto. A small park near Lee's Creek on Main Street in Cardston, Alberta, her birthplace, was named Fay Wray Park in her honor. The sign at the edge of the park has a silhouette of King Kong on it. An oil portrait of Wray by Alberta artist Neil Boyle is on display in the Empress Theatre in Fort Macleod, Alberta. She became one of the first four entertainers to ever be honored by Canada Post by being featured on a postage stamp.
Quotes: "Every time I'm in New York, I say a little prayer when passing the Empire State Building. A good friend of mine died up there." (On her trip to England in 1934) "As soon as I got off the boat, a man met me and said," "Will you please come up to the BBC studios and scream for us?" "He [Merian C. Cooper] called me into his office and showed me sketches of jungle scenes and told me," "You're going to have the tallest, darkest leading man in Hollywood." "Naturally, I thought Clark Gable. But then he showed me this sketch of a giant ape up the side of the Empire State Building, and he said," "There's your leading man."
Wray died in her sleep of natural causes in her Manhattan apartment. She is interred at the Hollywood Forever Cemetery in Hollywood, California. On August 10, 2004, two days after her death, the lights on the Empire State Building in New York City were dimmed for 15 minutes in her memory.