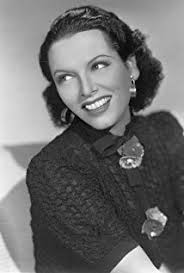 2/15/1899 to 8/14/1985
Edith Holm Sondergaard was an American actor. She was born in Litchfield, Minnesota to Danish-American parents, Hans and Christin (Holm) Sondergaard. Her father taught at University of Minnesota, where she was a drama student. Sondergaard began her acting career in theater, and progressed to films in 1936.
She had dark, striking, almost feline looks. She could be exotic and regal or sly and manipulative. She was a talented character actress. She played many sinister and cunning roles.
Sondergaard won the very first ever Best Supporting Actress Oscar for her very first ever screen appearance as Claude Rains scheming wife in "Anthony Adverse" 1936.
Her best known horror movie roles were in; "The Cat and the Canary" 1939 with Bob Hope, "The black Cat" with Basil Rathbone 1941, "Sherlock Holmes-The Spider Woman" 1944 with Basil Rathbone, "The Invisible Man's Revenge" with Jon Hall 1944, "The Climax" 1944 with Boris Karloff, and "The Spider Woman Strikes Back" with Brenda Joyce 1946.
Her first husband was actor Neill O'Malley. They were married from 1922-1930. She then married theater director Herbert J. Biberman in 1930. Later Herbert became a film director.
After the Second World War the House of Un-American Activities Committee began an investigation into the Hollywood Motion Picture Industry. In September 1947, the HUAC interviewed 41 people who were working in Hollywood. These people attended voluntarily and became known as "friendly witnesses". During their interviews they named several people who they accused of holding left-wing views. This included Sondergaard and her husband Herbert Biberman. Biberman was accused of being a communist and named as one of the Hollywood Ten. Biberman appeared before the HUAC on 29th October, 1947, but like, Alvah Bessie, Lester Cole, Albert Maltz, Adrian Scott, Dalton Trumbo, Edward Dmytryk, Ring Lardner Jr., Samuel Ornitz and John Howard Lawson, he refused to answer any questions. Known as the Hollywood Ten, they claimed that the 1st Amendment of the United States Constitution gave them the right to do this. The House of Un-American Activities Committee and the courts during appeals disagreed and all were found guilty of contempt of Congress and Herbert Biberman was sentenced to six months in Texarkana Prison and fined $1,000.
As a result of all this Sondergaard's career suffered irreparable damage. She was blacklisted with her husband in 1948. They moved to New York where she was able to work in theater. She did not appear in another Hollywood film until "Savage Intruder" in 1968. Sondergaard was widowed in 1971 when Herbert Biberman died from bone cancer at the age of 71. Gale and Herbert had two children.
After several strokes Gale died August 14, 1985 (aged 86) in Woodland Hills, California from cerebral vascular thrombosis.