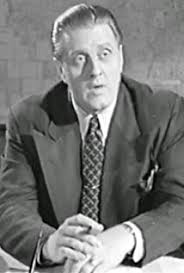 1/8/1903 to 7/19/1976
Eugene Oliver Edgar Stutenroth was an American actor and film manager. Roth was born in Redfield, South Dakota. He was the son of a German father and a Swedish mother. He and his two brothers were raised by their mother after his father left the family. He finished high school in 1920 and was a manager of a movie theater before becoming an actor. From 1920 to the early 1940s he was in the exhibition area of show business, managing vaudeville theaters and, later, movie theaters all over the US. He specialized in installing pipe organs in theaters.
Roth was watching a film scene being photographed when a member of the film crew noticed that he looked like Ernst Hanfstaengl, then a crony of Adolf Hitler in Nazi Germany. He was promptly fitted with makeup and costume, and became a popular character actor. His burly frame and craggy features made him ideal as an all-purpose menace, gangster, tough guy, cowboy or sheriff. His billing names included Gene Stutenroth, Eugene Stutenroth, and Eugene Roth. He appeared in over 250 films between 1922 and 1967.
Most of his acting jobs in the mid-1940s were in "B" features for Columbia Pictures and Monogram Pictures. In 1949 he abandoned his real name and shortened his screen name to "Roth." He also starred as a villain in the Columbia serials "Captain Video Master of the Stratosphere" (1951), "Mysterious Island" (1951) and "The Lost Planet" (1953).
Some of his films were: "Sherlock Holmes and the Spider Woman" (1943), "Earth vs the Spider" (1958), "Attack of the Giant Leeches" (1959), "Tormented" (1960), "She Demons" (1958) and "Zombies of Mora Tau" (1957).
He Almost died after contracting pernicious anemia in 1963. Fortunately Roth managed to pull through, but lost a lot of weight in the process and acquired a very gaunt look as a direct result of this. His father was a professional gambler and his mother was a dressmaker. In the 60's Roth retired from acting and sold wines and liquors in Hollywood.
Jack Tillmany had a chance meeting with the retired Gene Roth. Jack writes: "He seems to have retired from acting before reaching age 65, since his last film and television credits are 1967, but in later years he worked as cashier at the drug store on the SW corner of Hollywood and Highland. Imagine my surprise when I stopped in there one afternoon and had Gene Roth ring up my purchase! Happily, I had my autograph book in my pocket, and of course he obliged! The drugstore was in the heart of Hollywood, across the street and about a half block East of Grauman's Chinese Theatre.
Roth was married three times; Dorothy Biddle (1934-1963) (divorced) (1 child), Helen Mack (1927-1934) (divorced) (1 child), Velda Parsons (1924-1925) (divorced) (1 child).
Roth was struck and killed by a hit-and-run driver in Los Angeles, California on July 19, 1976.