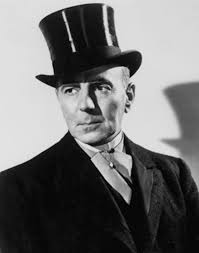 1/11/1886 to 5-27-1960
George Desylla Zucco was an English actor. His father was Greek, his mother English. He was a lieutenant in the British Army's West Yorkshire Regiment during WWI. His career began on stage in 1908 in vaudeville. He continued stage work into the 20's. In films he often appeared in supporting roles. He was in 96 films during a career spanning two decades, from 1931 to 1951.
In his horror films, he often played either suave villain or a mad doctor. But always with class. He appeared in some of Universal's classic movies as well as in many "B" movies. Most noted are: "The Cat and the Canary" (1939), "The Mummy's Hand" (1940), "The Mummy's Tomb" (1942) "The Mad Monster" (1942), "The Black Raven" (1943), "The Mad Ghoul" (1943), "Dead Men Walk" (1943). "Sherlock Holmes in Washington" (1943). "The Mummy's Ghost" (1944), "House of Frankenstein" (1944) and many, many more. He co-stared with Basil Rathbone, Bela Lugosi, and Boris Karloff.
He's played mad doctors, mad scientists, slimy lawyers, Sherlock Holmes's arch enemy Moriarty in one movie and a Nazi spy in another. George turned down a roll in "Return of the Ape Man" (1944) because he thought it was ludicrous although he was still credited as being in the movie. He was also in "Tarzan and the Mermaids" (1948) (the last of the 'Tarzan' films with Johnny Weissmuller). He played a fake god.
He married Frances Hawke sometime in the 1910's. They divorced in 1930. He married Stella Francis in 1931. He had one daughter. He was injured in WWI. A gunshot in his right arm. Surgery resulted in the reduced use of two fingers and supposedly his thumb. There is a story that his mother was a former lady-in-waiting to Queen Victoria. This is disputed since only titled ladies of high rank such as duchesses, countesses and baronesses are allowed the honor.
George suffered a stroke on the set of "The Desert Fox: The Story of Rommel" (1951) and retired from acting. After recovering some of his health back, George was offered the role of the mad scientist in "Voodoo Woman" (1957) but he did not do it probably due to his declining health. George lived his final years in the Monterey Sanitarium, an assisted-living facility. It is reported that he suffered from dementia throughout the 50's. I have not been able to verify that. George Zucco passed away on May 28, 1960 at the age of 74 of Pneumonia in Hollywood, CA. He was cremated and his remains are located in Forest Lawn Hollywood Hills, Hollywood Hills, CA.
He was an avid dog lover and owned several German Shepherds. His nickname was "One take Zucco". He was regarded as quiet-spoken and very professional. Whether playing a sophisticated Baron or a mad scientist he was good at his craft. He could be charming in one movie and frightening in the next. Don't get on his bad side. He'll get revenge. His work ethic ensured that "B" movie or classic, you got his best.