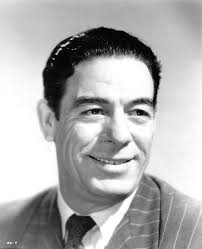 8/16/1899 to 9/20/1973
George Glenn Strange was an American actor. He was born in Weed, New Mexico but grew up in Cross Cut, Texas. He is of Irish and Cherokee descent. At various times in his life, he was a rancher, deputy sheriff and rodeo performer. He taught himself to play the fiddle and guitar at a young age. He was in scores of westerns over the years. In the late 1920s, Glenn and his cousin, Taylor McPeters, better known later as the western character actor Cactus Mack, joined a radio singing group known as the "Arizona Wranglers" that toured throughout the country. Although he mostly appeared in western films, he has a strong cult following playing Frankenstein's monster in three of the Universal films done in the 40's.
It was his massive build that helped him break into the Universal horror picture genre of the 1940s. Boris Karloff had grown weary of playing the Frankenstein monster and fearful of being typecast. Glenn was the perfect replacement for the job and made his debut as Frankenstein's monster with "House of Frankenstein" (1944). He also played the monster in "House of Dracula" (1945) and "Abbott and Costello Meet Frankenstein" (1948). Other non-western films he appeared in were; "Flash Gordon" (1936), "The Mad Monster" (1942), "The Black Raven" (1943) and "The Monster Maker" "1944".
Glenn was married three times; Flora Hooper Strange, Otrela Strange and Minnie Thompson Strange. He had 4 children.
Other neat stuff: Glenn was 6'4". (I've heard everything from 6'3" to 6'6". I found a quote from him where he says he is 6'4". Though Boris Karloff is more popular as the Frankenstein Monster, it is Strange's version that is often used by Universal Studios for marketing purposes. Boris Karloff's obituary in 1969 was run in newspapers with Strange's picture as Frankenstein's monster. He was an eighth generation great grandson of John Rolfe and Pocahontas through his maternal grandfather. For twelve years he played Sam the bartender on "Gunsmoke" from 1962 to 1973. Glenn's early musical training allowed him to compose several songs for films.
Glenn was bed-ridden with lung cancer when his good friend Lon Chaney Jr. passed away. Bob Burns, who was working at CBS at the time, was asked to find somebody to talk about Chaney. Burns went to Strange that night and told him that no one would speak for him. Strange said, "I will." He got out of bed and traveled to the studio with Burns. Burns later remarked how moving it was that Strange, dying himself, came in for his friend. Six months later Strange passed away.
On September 20, 1973, at age 74, Strange died of lung cancer in Los Angeles, California.