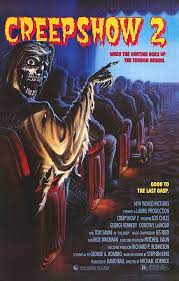 "Old Chief Wood'nhead": Ray Spruce (George Kennedy) and his wife Martha (Dorothy Lamour) own and run a small general store. The town, Dead River, has almost become a ghost town. The only locals are mostly from a small Native American tribe nearby. Many of the tribe owes money to Ray on credit. Benjamin Whitemoon (Frank Salsedo) is an elder from the tribe. He gives Ray a bag of jewelry belonging to the tribe members as collateral until they can pay their accounts. It is a point of horror with the people of the tribe. After he leaves his nephew Sam (Holt McCallany) and two of his friends rob Ray taking the jewels. Sam ends up killing both Martha and Ray. After they leave a wooden Indian statue, nicknamed Chief Wood'nhead (Dan Kamin), that had been in front of the store for decades comes to life and seeks revenge.
"The Raft": After the end of swimming season, Deke (Paul Satterfield), Laverne (Jeremy Green), Randy (Daniel Beer), and Rachel (Page Hannah) drive to a closed swimming hole. They swim out to the raft that is still in the middle of the pond. Randy notices something floating on the water that seems to engulf some ducks that are on the pond. Randy believes there is something sinister about it. When Rachel puts her hand down to touch it the object engulfs her and devours her. The object is some kind of entity that eats anything it touches. The remaining three kids are stuck on the raft and the entity is still hungry.
"The Hitch-hiker": Annie Lansing (Lois Chiles) is on her way home from spending some time with her lover (David Beecroft). She is late and has only fifteen minutes to get home before her husband does. Speeding home she runs over a hitchhiker (Tom Wright). She then flees the scene. All the way home Annie is plagued by the dead hitchhiker trying to get to her.
"Creepshow 2" was released in 1987 and was directed by Michael Gornick. It is an American omnibus and kind of a quasi portmanteau consisting of three stories written by Stephen King. The screenplays were done by George A. Romero. It is a sequel to Creepshow 1982. Originally there were five stories planned but two of them were not done because of budgetary reasons. The first Creepshow movie was done by Warner Brothers but because it didn't make as much money as they hoped Warner Brothers decided not to produce the sequel. Instead Roger Corman's New Line Cinema produced it but with a much lower budget.
Even though "Creepshow" is known for its animation sequences, for "Creepshow 2" they seemed childish and a bit outlandish. The stories themselves were quite creepy and a couple of them even intense, but the wraparound story didn't really add anything to the film. As a matter of fact, I felt that the comic aspect of it actually took away from the movie as a total. All three anthology stories were played straight and actually had some blood and nudity in them to bring home the eeriness. I found them not so much scary as chilling. Despite the less than stellar wraparound story the movie was entertaining enough to keep me engaged.
The film is narrated by the Creep (Tom Savini). The Creep's voice is done by Joe Silver. The frame story is about a kid named Billy (Domenick John) who likes comic books and is being bullied by some other local kids. He has an evil way to get even. In "The Hitch-hiker" Stephen King has a cameo as a truck driver.