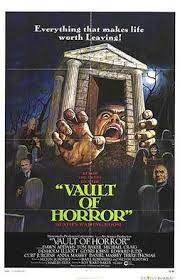 Five men get on an elevator. Instead of stopping at the lobby the elevator descends to the subbasement. When they get off they find themselves in a small room with chairs around a table and an array of bottles for drinks. They make themselves a drink and begin telling each other about their strange dreams.
"Midnight Mess": Harold Rogers (Daniel Massey) pays a detective (Mike Pratt) to find his sister. Then he kills the detective. His sister, Donna (Anna Massey) is living in a strange town where everything closes when it gets dark. Harold goes to her house and tells her that their father died and left everything to her. He then stabs his sister. Roger then finds out why no one goes out after dark.
"The Neat Job": Arthur Critchit (Terry-Thomas) has OCD. When he marries Eleanor (Glynis Johns) he expects her to keep the house clean and neat. Obsessively neat. If anything is out of place he berates her. It's not long before Eleanor goes off the deep end.
"This Trick'll Kill You": Sebastian (Curd Jurgens) and his wife, Inez (Dawn Addams), are magicians in the Far East looking for a new trick for their act. After criticizing a street magician (Ishaq Bux), and revealing his secrets, the magician's assistance (Jasmina Hilton) decides to get revenge.
"Bargain in Death": Maitlain (Michael Craig) plans on staging his death, with his partner Alex (Edward Judd), to commit insurance fraud. He takes a drug to put himself in death-like trance and is buried. Alex decides to leave him and run off with the insurance money. Two anatomy students, Tom (Robin Nedwell) and Jerry (Geoffrey Davies), who live in the same boardinghouse as Maitlain, need a cadaver to practice on. They decide to dig up what they think is the dead body of Maitlain.
"Drawn and Quartered": Moore (Tom Baker) is a struggling artist living in Haiti. An old friend of his, Bob Dickson (Maurice Kaufmann), tells him that art dealers Arthur Gaskill (John Witty) and Diltant (Denholm Elliott), along with an art critic named Fenton Breedley (Terence Alexander) are selling his paintings at exorbitant rates and keeping the money. Moore decides to see a Voodoo Man (Tony Hazel) and get revenge.
"Vault of Horror" was released in 1973 and was directed by Roy Ward Baker. It is an anthology portmanteau produced by Amicus Productions. The stories were based on those from EC Comics. It is the sixth of Amicus' seven anthology films. As with the other Amicus anthologies it is a stand alone film.
This is the only Amicus anthology that doesn't include Peter Cushing due to his still filming "And Now the Screaming Starts" 1973 at the time. Daniel Massey and his real sister Anna Massey play brother and sister in the movie. They are the son and daughter or Raymond Massey.
This is a varied selection of stories. Since there are five of them they are short and to the point. A couple of them have slightly grisly endings and a couple have a humorous tilt to them. They aren't complicated but they were interesting. Of course each one has its own little twist and at the end you find out why these five people have been brought together.