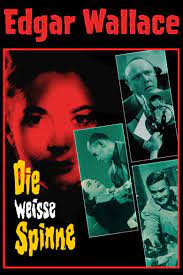 After losing all his money at club 55 in Soho, London, Muriel Irvine's (Karin Dor) husband dies in a fiery car crash. Since the body is too disfigured to recognize the police ask her to identify his possessions. She does. One item is a glass figure of a white spider that he used to keep on his key chain as a good luck charm when he went gambling. The insurance company tells her that he recently increased his life insurance from five thousand to fifty thousand pounds. The insurance company is suspicious and sends the information to Scotland Yard. The Yard learns that in the last year this same insurance company has paid out at least 200,000 pounds because of fatal accidents.
Inspector Dawson (Paul Klinger) brings this information to his boss, Sir James (Friedrich Schoenfelder). Without any evidence that the accidents aren't accidents his boss tells him to drop it and concentrate on real crimes. In a photograph of another accident Inspector Dawson sees the victim wearing a white spider tie clip. He decides to check out the Soho area. Dawson is murdered. Scotland Yard brings in a famous criminologist named Raymond Conway. Conway has unusual methods. The rest of the team does not know what he looks like. He interviews people behind bright lights and comes and goes from a back door.
Meanwhile Muriel is broke. Between the funeral costs and her husband's gambling there is no money. Now the insurance company is refusing to pay out his death benefit. Muriel goes to Club 55 and confronts them believing they are responsible for her husband's death. There she finds that the manager of the club hung himself and that a white spider was found on the floor. She then gets a visit from her husband's lawyer. He tells her that he loaned her husband money and is looking to get paid back. Finding out that she is destitute he tells her about a job he is aware of working for a charitable organization that finds jobs for convicts recently released from prison.
One of her charges is Ralph Hubbard (Joachim Fuchsberger). Ralph is recently released from Dartmoor Prison. Ralph takes an interest in Muriel and says he wants to help her. Muriel finds herself being accused of murdering her husband. Someone is playing mind games with her making her think that her husband may actually be alive and everywhere she goes she finds white spiders. At this point Muriel doesn't know who to trust and who not to trust.
"The White Spider" AKA "Die weisse Spinne" was released in 1963 and was directed by Harald Reinl. It is a West German crime drama, also known as a krimi.
Although the film looks and feels like an Edgar Wallace story, the father of krimis, it was actually written by Louis Weinert-Wilton. Weinert-Wilton was a German-Czech playwright who had several books made into krimi movies. In addition to "The White Spider" he penned "The Carpet of Horror" 1962, "The Secret of the Black Widow" 1963 and "Secret of the Chinese Carnation" 1964.
Director Reinl was an Austrian filmmaker who made several krimis. He is credited with making the first krimi "Face of the Frog" 1959. At the time he directed "The White Spider" Reinl was married to Karin Dor. They divorced in 1968. He then married actress Daniela Delis. Reinl died in 1986 when his then wife, Delis, stabbed him to death.
Like most krimis the plot is a little complex and peppered with subplots. There are the standard plot holes and red herrings. There are also a fair amount of murders; most of the victims were garroted by a sinister and mysterious character known as Falconetti. Falconetti, a master of disguises manipulates Muriel every step of the way until she is unsure of anything or anyone. It's a slightly campy movie but a good story and a nice addition to the krimi subgenre.